Mark Foy Australian 18ft Australian Acrobatic Championships Lazarus Capital Partners and The Rag & Famish Hotel top two overalls
The best Europeans are the Germans of Black Knight, down to third place overall, but always first continental; further leap ahead of the other German team on "Peroni", European second and fifth overall



It ended with 12 total regatta, a lot of scuffs, but a lot of show the Mark Foy European Championship of acrobatic, fast, spectacular 18 feet Australian, organized by the Arco Sailing Circle on the delegate of the Italian Sailing Federation and co Working with the Garda Trentino Vela Consortium. The conditions of the Garda Trentino have been challenging throughout the week, so much that from the second day onward the Regatta County has early departure so that the wind does not rise too much, as on the first day, when the boats have been and tens, between scuffs and technical breaks. Certainly the one who has never had any problem taming their skiff is the Australian crew of Lazarus Capital Partners, leading from day one and the most prepared to hold the boat even in wind and wave conditions.




For the others it was a question of who scuffled less: it's not a coincidence that the points from the first to the second are 10 and in the partials of Lazarus, with Marcos Ashley Jones, Philip? Marshallio and Angusto Williams on board, there is no retreat and the PE gg result is a fourth, scrapped along with a third. Plot twist instead in the rest of the overall podium with the overtaking of the other Australians of The Rag & Famish Hotel, to the damage of the Germans of Black Knight, who with the last regatta (and a scuff) compromised that absolute second place they had anus maintained until the penultimate day.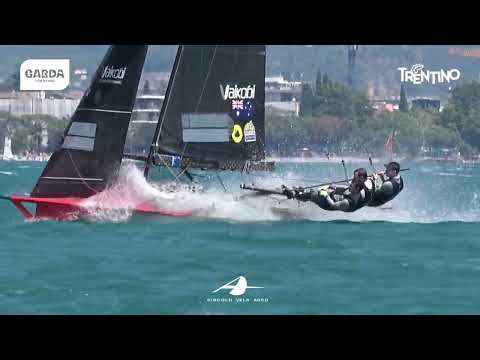 Despite the third overall they still conquered the European victory, followed by Peroni's compatriots. Third European place for the English of Black Dog, they also "damaged" of an overall position for a final regatta they did not take off due to technical problems due to scuffia. And at the Arc Sailing Circle after breathing a very overseas spirit, thanks to skiff evolutions invented over 100 years ago in Sydney Bay by Mark Foy, it's time to think about the very young and the most popular introduction class at world: from 5th to 7th August come back In fact, the Ora Cup Ora, with its lively helmsmen, which will be about 400.



https://s3.amazonaws.com/rrs.prod/37...8zt82ysmyxtalz