The New Zealand SailGP Team's Saint-Tropez' hopes are hanging in the balance after a disastrous incident onboard the team's F50 Amokura. Shortly after the end of racing, New Zealand's 29-metre wing collapsed, breaking off into the water and instigating an immediate salvage operation to ensure all debris was removed from the water. No injuries were sustained onboard.

Speaking immediately following the incident, New Zealand driver Peter Burling said: "Thankfully everyone on board is safe - it could have so easily fallen at a different angle and we were all on the starboard side of the F50 just touching down - something we've done 30-40 times today. We just heard an almighty bang and watched it all unravel."



The disastrous incident capped off an otherwise stunning day of racing on the French Riviera, in which the Kiwis found themselves tied for pole position with the Denmark SailGP Team (21 points each). New Zealand finished first, sixth and fifth in the first three fleet races of the weekend.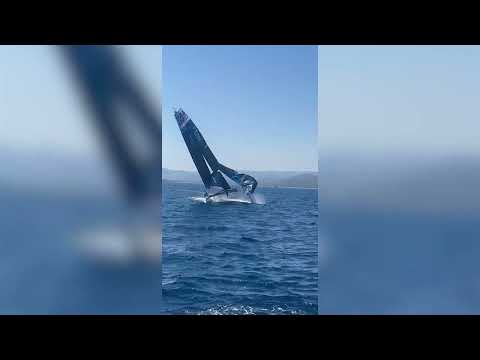 With Amoukura now back in the shed and a full assessment of the incident and damage underway, Burling said it was too early to comment on what caused the structural failure.

"The whole group has done an amazing job as a team getting the boat back here in the shape it's in. I think we're getting more and more angles and debriefing and I've honestly got no idea [why it failed]. On board, we weren't doing anything different - just gently touching the boat in and coming up on course."

"We're really happy to take the win in the first race - obviously in really tricky conditions. In the second race, we got a middle of the road start and didn't get the best race put together, then in race three we had a pretty terrible start but did a really good race to get back to fifth. We're top of the leaderboard with Denmark - something that we're really proud of as a group but it's all for nothing if we can't sail tomorrow," Burling said.

New Zealand wing trimmer Blair Tuke said: "Everyone's pretty shaken after what was obviously a very scary incident. We've had the time to react, ascertain that we're okay and now as the minutes and hours go on, I think we're starting to realise both the extent of the damage and how lucky we were."

"We're also pretty gutted. It was a strong statement from the team to bounce back from Los Angeles and win race one, followed by two other really well-sailed races," Tuke said.

With personnel now working at pace to assess the extent of the damage and situation at hand, Burling said: "It's all in the hands of the tech team now and the organisers to see what they can make happen tomorrow."