08 November 2023 - 11h23

The battle is raging at every level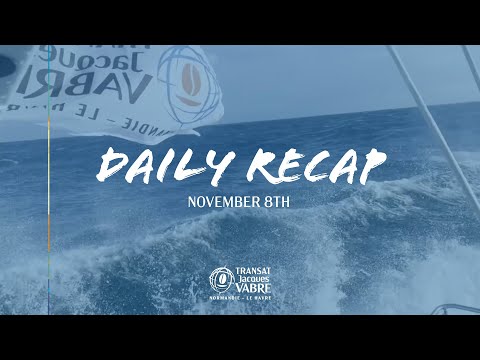 With the two leading ULTIM trimarans are about to round Ascension Island together before a decisive 3000-mile downwind run to Fort de France, the IMOCAs and Class40s are fighting it out in or behind the front moving into the near-Atlantic this morning.

The situation will become clearer for both classes later today. There are no big changes for the Ocean Fifty multihulls off Portugal with the leader remaining firmly in charge.






ULTIM: Starting all over again

What a race in this year's Coffee Race! This is the third time in ten days that the ULTIM leaders have found themselves back together again. The two frontrunners have not been this close since the start in Le Havre, so after 4500 miles of racing, a situation which is truly amazing.

After three days of upwind sailing in moderate trade winds, SVR Lazartigue got back up with Banque Populaire XI, the leader since Madeira, and regained the top spot as they rounded Ascension Island. Maxi Edmond de Rothschild is more than 130 miles behind, "More or less the same distance that separated us from Banque Populaire XI on the way out of the Doldrums," explained Charles Caudrelier this morning. "SVR Lazartigue was very fast in these moderate winds and they got their timing for their tacks just right. I don't know whether Banque Populaire XI has any technical problems. We're not told everything, but SVR seems to be more at ease in terms of her bearing and flies well in these light to moderate winds. Jean-Yves (Bernot, their router) has done a great job," said the skipper of Gitana 17, which found herself trapped yesterday for several hours in a calm, which cost her dearly as these boats sail at 25 knots upwind on average.

A long 3000-mile downwind passage is about to begin for the leading ULTIM boats. They are likely to sail close to the exclusion zone around the horn of South America. It is still all to play for, in particular for the three frontrunners, as Sodebo Ultim 3 and Actual Ultim 3 have now clearly been left more than 400 miles behind. The gap is set to widen for those two boats, until they start sailing downwind.

The trade winds are not very consistent with areas of light winds, meaning that they will have to carry out a lot of manoeuvres and to win the race, it is going to be necessary to have a boat that can still give it her all. The ETA for the leaders is the evening of 12th November.




IMOCA: Large gaps already developing

Sam Davies was the first skipper we talked to today. She described, "Huge seas and horrible noises," as they passed through the front this morning. Currently doing well in third place after a perfect start to the race, the mixed doubles pairing on Initiatives Coeur stepped up the speed, like the two leaders, on a SSW'ly route, although the choice of which option they will finally go for, remains uncertain. "For the moment, we are diving south at speed. Sometimes it is rather too fast and so we try to rein her in," said Sam, who has sufficient experience to know that these periods of acceleration when you can progress at high speeds are also the most dangerous for the boats. Also doing well until now, in fifth place, Groupe Apicil with Damien Seguin and Laurent Bourgues aboard were getting the most out of their 2015 VPLP-Verdier designed boat, but have just announced that their boom is broken and are heading for a port in Brittany to try to carry out repairs.

Behind the three leaders, Paprec Arkea is waiting to pounce around fifteen miles back, as are Maitre Coq V and Groupe Dubreuil, who have all been doing well since Le Havre. We should also say that Teamwork has had a good start to the race and has been in the top ten since the start.

It is going to be interesting to watch these boats on the tracker today. After passing north of the Ushant traffic separation scheme, the IMOCAs will move to the west as they dive down and the exact angle will indicate the strategy they plan for the coming days. After a mistake and not crossing the start line correctly, Bureau Vallee decided to carry out their 5-hour penalty before the front went over. She is now neck and neck with MACSF on the way into the Four Channel, which means she is among the boats the furthest East for what lies ahead.

Sam Goodchild and Antoine Koch on For the Planet have been taking places since a mainsail problem cost them time yesterday afternoon, Goodchild said today, "We had a bit of a lively night, slamming a lot and had a few breakages, we have lost both our wind instruments at the top of the mast, which is a bit annoying, a few other fiddly things. We had to drop our mainsail off Cherbourg, so we lost a lot of time then. So we are slowly getting back into the pack. We are passing a few boats, we are just trying to find the balance between nor breaking too much and trying to go faster. Apart from that we have gone through the front and are going south which is nice. It is still pretty rough with a big sea state and so we are trying to find the level between going too fast. But really all is good on board."




ABANDON DE l' IMOCA STAND AS ONE

Éric Bellion and Martin Le Pape warned the direction of the race this morning at 8:44am (local time) that a lice took off in front of the boat. The two skippers are fine, they are not requesting assistance and are escorting their injured unhull to the nearest port to study this structural problem posing a risk to the boat (ndlr: launched June 2023). The STAND AS ONE duo cannot continue the race calmly and must resolve to give up. Eric and Martin make their way to Roscoff where they should arrive later this afternoon.










Ocean Fifty: Out of the worst of it?

For the Ocean Fifty boats, it looks like being a battle between three boats in this Coffee Race. On Solidaires en Peloton, Thibaut Vauchel Camus and Quentin Vlamynck have shown their experience in the Bay of Biscay and when dealing with the front. They have a lead of around fifty miles out in front and are pleased now to be back in more manageable seas, as Quentin Vlamynck explained this morning, "It's going well with Thibault. We know the boat by heart and that is useful. We take it in turns and that helps each other. During the night, we tried to be as fast as possible to get down under the front and now we can take it in turns to take a nap."

The duo on Solidaires en Peloton dealt well with their move off to the West, which was enough to keep Viabilis in check, while allowing them to stay in manageable seas. The next stage for the trio is to deal with the ridge of high pressure that is waiting for them off Gibraltar. "We are leaving the routers come up with waypoints and speed towards them on one hull," added Quentin, which tells us a lot about driving these small trimarans, where you cannot afford to stay too long at the nav desk under autopilot. The wind will gradually come around today to be more favourable and speeds are set to increase, before they reach an area of light winds, which may bring the fleet closer together tonight.





Abandoning the OCEAN FIFTY Primonial
At 5:25 p.m., Tuesday, November 7, Primonial Sailing Team - Sébastien Rogues informed the race management that its Ocean Fifty suffered a serious problem on the board floater. After securing the boat, Sebastien and Jean-Baptiste, his co-skipper, mobilized to regain the French coasts as soon as possible.

Approaching Belle-Ile, the Ocean Fifty Primonial heads to a port close to the Gulf of Morbihan. The arrival is planned at night and will mark the abandonment of Sebastien and Jean Baptiste on this 16th edition of the Transat Jacques Vabre Normandie Le Havre.

"Of course we're disappointed with JB because we started this second leg pretty well and it looked good to continue playing with our mates... We're thinking of the whole team that did a sick job to have this brand new boat present on the starting line of the Transat Jacques Vabre. We also think of our partners who support us in these trials, a huge thank you to all of you! "
We will come back stronger in 2024 to retake battle with the Ocean Fifty class!





Class40: Not that easy getting to the South

Crossing the same front as the IMOCAs, but 300 miles further South, the Class40 monohulls continue to fight it out as they round the NW tip of Spain. In front, the two Italian-French teams on Alla Grande Pirelli and IBSA are setting an incredible pace that only a small group of five chasing boats seems able to follow. Amarris is one of them, but Achille Nebout seemed fed up hearing his boat slamming and was pleased that they had finally tacked behind the front. "It's starting to become exhausting. We can't do much aboard. Gildas (Mahe) managed to heat up a couple of meals. The only position we can be in is lying down in the bunk." The violence of life aboard the scows was unfortunately confirmed during the night during a stacking session carried out by Alexis Loison. La Manche Evidence Nautique has been forced to divert to La Coruna after he injured his hand. This is the second serious accident following Alberto Riva's ankle injury in the first leg for the Class40 boats.

While the leaders should see conditions gradually improve, as they make their way south, the second Class40 pack is still in the process of rounding the tip of Galicia. By sailing close to the coast, they are avoiding the heaviest seas further offshore that Everial (Le Draoulec-Leglatin) is encountering after passing north of the Cape Finisterre traffic separation scheme. L'Envol-Kermarrec Promotion (Facon-Vlliergue) now looks like following this route too.