13 November 2023 - 11h54
Happy Monday mood in the Trade Winds


​

The Monday morning mood is generally upbeat and good among the duos racing on the Transat Jacques Vabre Normandie Le Havre. After Martinique welcomed the first two ULTIM pairs last night there is always a mental lift for the fleet as – even if it is along way off – there is an now an end in sight.



​





A long time in the making....Armel Le Cl?ac'h and S?bastien Josse (Banque Populaire XI) win ULTIM race

French duo Armel Le Cleac'h and Sebastien Josse sailing Maxi Banque Populaire XI crossed the finish line of the 16th edition of the Transat Jacques Vabre Normandie Le Havre off Fort de France, Martinique at 18:19hrs local time (22:19hrs UTC) this Sunday evening to win the ULTIM division for 32m multihulls (subject to Jury verifications).

The biennial, double handed classic 'Coffee Route' Race - which this year celebrates its 30th anniversary - started from Le Havre, France on Sunday 29th October and took the five strong ULTIM class on a 7,500 miles course south to round Ascension Island before turning back northwards to skirt the South American coast and finish in Martinique.

The elapsed time for the Banque Populaire XI duo is 14d 10h 14m 50s. They sailed the theoretical course at an average speed of 21.66 knots. They actually sailed 9263 nautical miles on the water at an average speed of 26.75 knots.

Whilst SVR Lazartigue (Fran?ois Gabart and Tom Laperche) lead out of the Channel and on to the Bay of Biscay, Banque Populaire XI made their winning move at Madeira, has led since just after Ascension Island and was never overtaken since emerging the most southerly mark of the course.

When Le Cleac'h and Josse finished, their nearest rivals, second placed SVR Lazartigue were just over 160 nautical miles behind.
​


​


The main IMOCA peloton, that is to say those pushing south and west, is very much getting the race they want. Among the ten or so boats on this side of the track it is a real trade winds speed test, fast reaching in relatively flat water. This is their chance to try different modes and set ups - small adjustments - sheeting positions, foil angles and heights and constantly calibrating the pilot systems.



​

And for the Class40s leaders there is a convergence happening as Amarris (Achille Nebout and Gildas Mahe) meets up with the teams which went more east at the Canaries. And actually Alla Grande Pirelli (Ambrogio Beccaria and Nico Andrieu) are more than 100 miles south of Amarris.


In the IMOCA class the leaders are still Swiss skipper Justine Mettraux and France's Julien Villion (Teamwork.net) who are about 120 miles SW of the Azores and sailing upwind.




​


​

In the south of the Canaries, now starting to work west, it is the winners of the 2021 edition Thomas Ruyant and Morgan Lagravi?re (For People) who have pulled through to set the pace in the east. They are some four miles ahead of Ark?a Paprec. Co-skipper Yann Eli?s reported this morning, "We have a decent trade wind which isn't too strong and the seas are flat calm, so we're on the attack. For People kept her foot down through the night, so we had to do the same."We need to be kind to the boat though and we want to get to the other side with a mast and two foils. We have to show a certain level of intelligence, but when there is a decent wind, we go on the attack, as these are perfect conditions for our boats. We're fighting hard with two other boats (Charal and For People) and we keep looking at the rankings to see how well or how badly we are doing. It's really exciting," added Yann, who is also watching the progress made by teamwork.net in the North. "It's not easy to know if they are able to stick to what the routing suggests, but they're certainly brave. Julien (Villion) is an exceptional weather expert and he saw the danger of getting stuck in the high and that there was an opportunity to the North. But this is a tough route for the sailors and their boats. The indication is we'll get there after them, but not as long after as we first thought, so the second week is going to be exciting."



On For the Planet, Britain's Sam Goodchild is enjoying the close racing, "All is good, we are pushing hard to try to stay with the new boats but they are going quick, we have Initiatives Coeur just ahead and V and B just behind and everyone is pushing hard and Malizia coming down to us at the moment. We are in good company. We are in the trade winds the sea state is not too bad and so hopefully it stays that way and we have somewhere between 18 and 20kts of wind and we are finally going west, so hopefully we are now getting closer to the finish line. It is warm but not too warm as yet. Nothing to complain about. "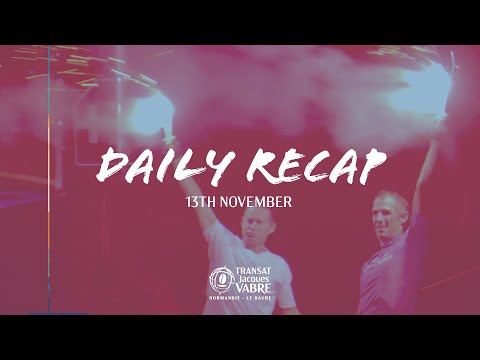 True north?



"We're not doing too badly. I have just seen a fantastic sunrise. Pierre (Le Roy) is taking a rest. We've been chatting on the VHF to Bilou and Guirec (freelance.com)" explained Benjamin Ferr? aboard Monnoyeur Duo For a Job, the leading boat with daggerboards, which is getting the most out of one of the fastest boats in that category. "I can see that the foilers have stepped up the pace. We're in a long upwind stretch on the port tack. It's nice to see our friends on the AIS. It's a long speed test, which is fun."

Racing is close too in the second pack in the North, including Five Group - Lantana Environnement, Medallia and Foussier - Mon Courtier Energie.

As forecast, the weather is likely to turn nasty and this option is going to be very demanding. "There is a front moving in today, but it doesn't look like it's going to be hard to deal with. After that, we're going to have to head south in the tail behind the front where there is a lot of wind. The big topic is the deep tropical low moving in on Thursday and a second low behind it. It will be further south than initially forecast. We are going to have to be careful in this Low and not break anything, which is why we need to get as far south as we can. We have to get in position now for Thursday," concluded Benjamin Ferre.

North or South, that is the question


​

Further south, the Class40 boats picked up the trade winds off the coast of Africa after passing the Canaries yesterday and the big question about North or South remains unanswered. "There are two routes to Martinique, via the South or the North, and for now, I'm not sure which one to take. We're putting off that decision for as long as possible," explained Nicolas d'Estais, still up with the frontrunners after a week of racing. "There is a nasty Low moving in, which will probably get a name. It will allow high speeds, but it's quite worrying, so the question is do we go for that system or go for safety and count on the trade winds," wondered the co-skipper on Cafe Joyeux. It is indeed a "joyful cafe" this Monday morning, as the skipper is clearly enjoying the trade winds. "I'm in the cockpit with a fantastic view with the Sun coming up. The boat is sailing downwind and it's smooth sailing, so everything is looking good."



PREVIOUS