Thibaut Vauchel-Camus and Quentin Vlamynck (Solidaires en Peloton), winners of the Transat Jacques Vabre Normandie Le Havre in the Ocean Fifty category (before jury)
Thursday at 8:07 p.m. local time (Friday 1:07 a.m. Paris time), Thibaut Vauchel-Camus and Quentin Vlamynck crossed the finish line in the bay of Fort-de-France in the 16th edition of the Transat Jacques Vabre in first position. Normandy Le Havre.
The Solidaires en Peloton race time is 11 days, 11 hours, 22 minutes and 27 seconds. He completed the 4,500 miles of the route between Le Havre and Fort-de-France, via Lorient at a speed of 16.34 knots on the great circle (direct route).
He actually covered 5432 miles at an average speed of 19.73 knots (on water).


Thibaut Vauchel-Camus and Quentin Vlamynck: "It was so fluid…"
Soaked to the bone! The public had a little glimpse of what a West Indian grain is and of the last hours of racing that Thibaut and Quentin experienced before crossing the line as winners. After an initial reaction at the pontoon, it was in the press room and in the dry that the interview continued with a pair happy to hold in their hands the victory which had escaped them both between Saint-Malo and Pointe ? Pitre ago just one year.
Thibaut: "It's wet (laughs!) but above all it's a feeling of a job well done with a good boat and a good team. And after all this cavalcade of recent years during which we were chasing, and finally, here is this victory. The hardest part wasn't the race, it was everything that had to be done and redone before. It's definitely good!




"It was so fluid, so simple... We were at ease. Quentin knows the boat so well. It is a boat that has proven itself. We had no apprehension about keeping up the pace. At the start of the 2nd round - in fact it's strange to say it for the Transat Jacques Vabre! -, the key point was the first squall at Groix when we reduced the canvas and felled to find a position further south. Primonial accompanied us, he even got ahead of us at one point. Unfortunately, he gave up and he's not here. Losing three serious competitors didn't make things any easier for us, even if that's not to say that the survivors weren't serious because when you're sailing on these boats, you can't predict anything. The game is still very open. It's true that there is a sporting frustration at not having had more opponents. Unfortunately, the machines did not allow for more numbers. Today, we are more concerned that our friendly competitors can manage technical files complicated enough to be with us again next season with high-performance boats for a great sporting season. "



Quentin: "There was a match. We're happy to be here. We didn't give up until the end of the line... It's a great reward for the work we've done. Before the season, we dismasted the boat twice to resolve problems. Thibaut's entire team worked a lot, and gave themselves the means to invest in a new boat to get the first places. I'm glad it did, otherwise I would have been pissed! But getting here early remains a commitment. We had to keep up the pace. This allowed me to learn other things in terms of settings, to increase the job list for Thibaut this winter! It's obviously a shame, for those who broke. But it's still composite, and it can be repaired. It's been a long time since there was a breakup in the classroom. This will provide work for everyone, and it will allow us to start again next year with more boats on the water. The game in the class is good, we saw it at the start of Le Havre. "



Thibaut: "In hindsight, winning a transatlantic race in a multihull is not nothing. There, today, we did it, I take the measure of it and I am very, very happy. What is very special about our sport is that before leaving, we do a 10-day village. We are asked to do everything except what we are there for, sailing. Coming out of the village atmosphere and tackling an autumn depression over the cold North Atlantic feels weird. I took this first round as a warm-up before jumping into the water and it was quite beneficial for me."





Quentin: "We're tired because we've had a lot of trouble sleeping the last few days. There were big squalls, it was very hot and we had to be careful. Mistakes can happen quickly even when you're far ahead and it We had to keep pace on our boats which can be sensitive."


"I am proud to have achieved all this with Thibaut this year, with his team and ours in the Medoc. Seeing that the boat that we designed and thought about with Romaric (Neyhousser) Lalou and Fabienne (Roucayrol) is also performing so well is a great satisfaction. It was a lot of work and now we can enjoy it. The Route du Rhum wasn't just luck, I feel good aboard these boats. The experience is there, it is acquired, it cannot be taken away from me. Having sailed with Thibaut for more than 10 days was great, it went very well between us. I learned a lot of things that will be useful to me on new projects."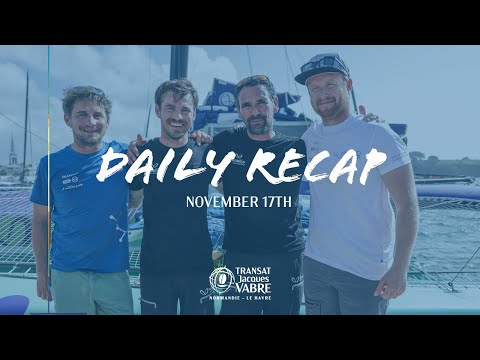 **********************************







Fabrice Cahierc and Aymeric Chappellier (Realites), second in the Transat Jacques Vabre Normandie Le Havre in the Ocean Fifty category (before jury)

Friday at 3:35 a.m. local time (8:35 a.m. Paris time), Fabrice Cahierc and Aymeric Chappellier crossed the finish line in the bay of Fort-de-France in the 16th edition of the Transat Jacques Vabre Normandie Le Havre in second position. .
The running time of Realities is 11 days, 22 hours, 42 minutes and 58 seconds. He completed the 4,500 miles of the route between Le Havre and Fort-de-France, via Lorient at a speed of 15.69 knots on the great circle (direct route).
He actually covered 5594 miles at an average speed of 19.51 knots (on water).




THE FIRST WORDS OF FABRICE AND AYMERIC UPON ARRIVAL AT THE PONTOON:
Fabrice: "It was an extraordinary moment, very sporting at the start. With Aymeric, we didn't give up, it was a game between caution and performance to save the equipment and go to the end. Afterwards, we released the horses, we accelerated hard and all the time! Second for a first is good. The boat was launched in July, this shows the quality of our teams to make it already reliable and efficient"

Aymeric: "I'm happy to finish and to have arrived in Martinique. Leaving Le Havre, we knew that the conditions were a bit problematic, with some nice depressions. It's a relief for the whole team because it makes all the work upstream more reliable and validated. Ten days before departure we had the engine in the bag and a hole in the middle of the boat. Being here is an immense pleasure. Having been able to take advantage of the Transat to discover this boat. We come out of it stronger and we will continue to progress to get first place which was inaccessible this time because Thibaut and Quentin had a fantastic race. We know that it was going from the front and we made the choice to be careful and see how it would go. It's really a shame that three of our competitors stopped too early and we have a thought for them. The first victory is to be here"

Fabrice: "I'm more of an attacker and Aymeric tempers me because he has more experience. I discovered in this transatlantic the intelligent way to manage speed. This is my third transatlantic in Ocean Fifty and it is the most qualitative. The tandem was fabulous and I learned a lot alongside them."

Aymeric: "It's always a gamble. You have to trust others to go to sleep. You have to create links. We found each other well. We learn with each deckchair. Two years ago, I was on Viabilis, another boat and each time, we learn. We only had 2,500 miles from Le Havre and the boat's counter tripled when we arrived here."

Fabrice: "We slept well. we didn't have the luxury of watching series on the computer while cooking. But there was always one on deck, another on the bunk. We managed that well and we still have more to do. I imagined one last gliding leg and we arrived from the north, only doing gybes and changing sails. We were in good enough shape to do it, that's the double advantage. I don't know if I'll go solo, maybe a little trip like that but it's not a dream in itself. For me, sailing has a social side, it's sharing. I love the crew and I could see myself doing a Prosailing tour and winning it! "


********************************







Pierre Quiroga and Ronan Treussart: the thrills of a great premiere



Newcomers to the Ocean Fifty class, Pierre Quiroga and Ronan Treussart tasted the pleasure of cutting the line in the beautiful light of this Martinican morning on a float. A great reward at the end of their very first transatlantic race, which he finished in third position aboard Viabilis Oceans. The emotions on arrival, the strong sensations experienced aboard their beautiful sea bird to which they knew how to listen: mixed with the first reactions of this pair united by a beautiful complicity...




THE ARRIVAL


Pierre: "It was invigorating, but not as much as the start! The ending was really very, very pretty. It was a pleasure. The joys of arriving early in the morning are that there is wind. We were able to put on a nice show, and have a lot of fun. We have just experienced an incredible adventure with Ronan on this trimaran. When we cut the line, we pushed the bar, it was over, end of the game, double-digit numbers...


We had a little more time than our friends to enjoy. We stayed one more night at sea, but that had its advantages, it allowed us to better appreciate the passage of the Diamond.
I had already experienced an arrival here in 2021 and the welcome here is crazy. I can't wait to enjoy the flavors of the island and introduce them to Ronan who is arriving for the first time in Martinique."

Ronan: "It's quite an emotional moment, because you're racing, you're in the heat of the action. It lasts and lasts...and time passes in a flash. When you see the line, it's an exceptional moment, especially since we made a great entry into the bay on a hull."







THE FIRST IMPRESSIONS AT THE END OF THIS GREAT PREMIERE


Pierre: "These boats are extraordinary machines. I don't know how many times we marveled at moving at 25-30 knots without forcing ourselves. It was a discovery for both of us to cross the Atlantic at these averages. It gives you lots of emotions, beautiful memories.
We are happy with the course, to be on the podium at the finish. We are on target with what we had envisioned. "



Ronan: "It's not like a monohull where you can put the cursor very high, you can push the boat without fearing, probably, much for your life. There, you are forced to choose a happy medium between the way that allows you to attack to remain efficient and the way to stay in place and keep the equipment in good condition. That's not the same at all. I did my first transatlantic in 2006, I was 23 years old. And today, I have the impression of having done another deckchair but of rediscovering something. But these boats are incredible, on board you feel very alive! "



THE STRESS


Pierre: "Yes, there is anxiety, we must not hide it. We sailed for the first time in fairly active squalls aboard this boat. We have a sword of Damocles hanging over our heads. We knew we had no room for error. This anxiety is present all the time, it leads to poorer quality sleep and stress. But that's part of the package. The pleasant side is still exponential too! "

Ronan: "When we left for the Bay of Biscay, we took precautions to sail in the strong wind conditions. But when you sail downwind in the trade winds on this type of boat, you also take risks at every moment. You never have a moment of relaxation, that's what is the most exhausting, both psychologically and physically, because you are always on the alert. "



LIMITS
Ronan: "We heard our friends had dropped out and it would have been such a disappointment if something like that had happened to us. To have crossed the Atlantic, to be here, it's great.

When it happened for the others, we had left the strongest in the Bay of Biscay. And then, pfuiii… you realize that it doesn't matter much."

Pierre: "It was hot on board. It was hard. I really congratulate the first two. They knew how to put the cursor in the right place, but high enough. You must not believe that we were on a cruise. We really pushed the boat too, depending on what it was able to endure. We defined the limits instantly, depending on the level of fatigue, the state of the sea, the density of the wind. We talked to each other and that's where two sailors complement each other. When we felt the boat the same way, it allowed us to judge these limits quite easily."

Ronan: "There are times you feel like he doesn't want to. You can go at 25-30 knots; and at other times, at 22 knots, you feel that the boat doesn't want to go, that it's struggling. And Pierre said to me: this is hurting the boat. We both feel things pretty much the same way."