The invitation to climb aboard the newest cat on the Bay, the LeBreton designed,
Westerly Marine built SIG 45 "Vamonos!" came without much notice Saturday morning.
Now who would turn down an invitation to do that?
(above a view through the port hole at 25 plus knots)
As simple and clean on the inside and starkly elegant as it is on the out side, the sheer pedigree of performance are combined in the design, engineered by a team which had it's fingers in the the design of Dogzilla, Groupama, Orange2 and numerous superyachts, Vomonos is very different from any cat it's size you will find on the West Coast.
Managing Director, Hugo Le Breton was aboard to check out the boat, only the 2nd one built an the 1st on in North America. Anticipation of the 1st lite up run was high. The boat was built to move, with it's fully battened main and 5 headsail options, from self tacking blade jib up to a massive gennaker, we set out with a full main and staysail. and quick hit mid 20's on the Bay proper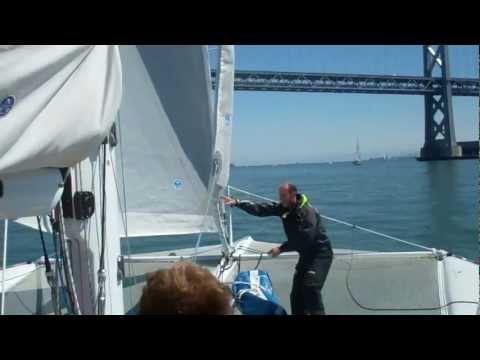 On board was current Single Handed Trans Pac Record holder Alex Mehran, owner of the Open 50 "Truth" who was quite amazed at how fast a comfortable boat could be!
Part of the SIG 45's magic relies on it's power system which can operate the fully powered Harken winch system enabling a minumum of crew to run for 20 some hours with a recharge. The halyard and tension line all are centrally located. The sheets and mainsail traveler are all all foot controlled from the very comfortable port and starboard
cockpits.
We managed to cram in at least a dozen Bay crossings in the 2.5 hours of sailing, including at trip over to McCovey Cove, where the crowd went wild, either out of sheer envy or something happening on the field. With wind in the 25 plus knot range, we reduced sail to the 1st reef and the small blade and still managed to hit a top speed of 28 knots. The boat absolutely smokes in breeze and the helm remained easily manageable in even the biggest puffs. The overall impression is the SIG 45 has the power and amenities to please those that demand performance with simple elegance.
Full Gallery
Le Breton Yachts