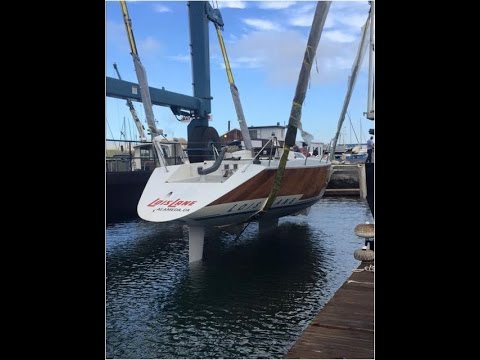 The 1977 Custom Tom Wylie IOR beauty has finally been relaunched!
Originally built for Bill Erkelens Sr, the boat competed in two Transpacs, won the Coastal Cup, kicked tail
in the Danforth Series and Whitney Series and local IOR events before retiring to Lake Tahoe.
It was while on the hook, the boat was struck at night by a Boston Whaler, severely damaging the starboard hull and deck.
She was bought back from the insurance company, and patched up and painted white and sold.
She ended up on the hard at Nelson's in Alameda before being bought in 2005 by Tom Bliss, who spend bundles of cash
and near 5 years in rehab. But time and weather had taken its toll on the old girl, and when launched in 2011,
the the pressure from the rig pulled out the stays, and with it, the then owners enthusiasm.
Tony Carr, who sailed with the Erkelens when she 1st sailed, got wind of her availability and bought her in 2012 at a bargain basement price.
Tony has done a complete inside and out rehab, even bringing back the original cold molded finish!
Relaunched on September 28th, Tony has plans to complete the interior next, in a Japanese woodwork finish and then replace the rig when time an money allows!
Nice work Tony!
Stay tune for progress reports and an upcoming series on the legendary boat designer and builder Tom Wylie