https://www.2oceansvibe.com/2022/08/...-season-video/


It's amazing how $24 million (around R390 million) can be blown out of the water.

Italian car industry boss Paolo Scudieri had just received his brand new 43,7-metre Aria SF superyacht from the shipyard when things took a turn south.

The yacht was about to enjoy her maiden season in the Mediterranean when she went up in flames off the coast of Formentera, Spain, in the Balearic Sea, according to Salvamento Mar?timo, the Spanish sea search and rescue agency.

Seven crew members and nine passengers on the yacht were able to evacuate to other boats nearby unharmed, but the Aria is thought to be unsalvageable.

Poof, just like that: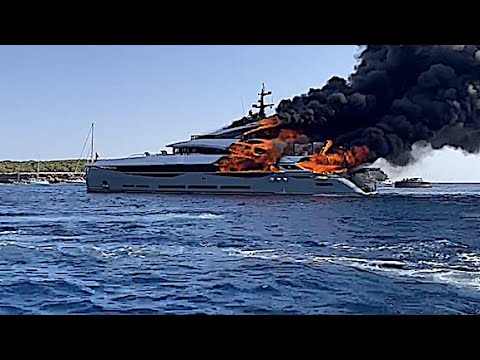 The yacht has now been towed to Ibiza and her burned hull is resting four miles off the coast of Roca Llisa. She is being guarded by coastguard vessel Guardamar Concepci?n Arenal in case she begins to sink or spill fuel.


Aria was sold by Italian shipyard ISA Yachts and was set to premiere at the 2022 Cannes and Monaco yacht shows, per Business Insider:




The superyacht included five staterooms, including two VIP suites and two twin staterooms, that could hold up to 10 guests. Scudieri's suite, located on the main deck, included a private lounge, skylight, and a terrace.

His suite also had an outdoor lounge that he could access with a private staircase.