As summer gives way to autumn on the Mediterranean, Alinghi Red Bull Racing are trialling their new M2-2L, a flatter-cut, slightly smaller mainsail that allows for rapid de-powering. Twinned with the small J4 jib today, the Swiss sailed in mean winds of 14 knots and gusts up to 18-20 knots with a heavy seaway combining natural swell and a short, sharp 1.5m chop just off the Barcelona beachfront.





In the conditions, it was not a day for nailing foiling manoeuvres or pushing the boat to its limit and there were notable back-offs as the boat took flight in the gusty conditions. For the team both sailing and shoreside, it was all about familiarity and time on the boat as they work up to sailing in windier conditions and rougher sea state. Interesting to note the increasing number of cameras now appearing down the hull of BoatZero with sheer-line data being captured today via the GoPro camera mounted just forward of the foil arm.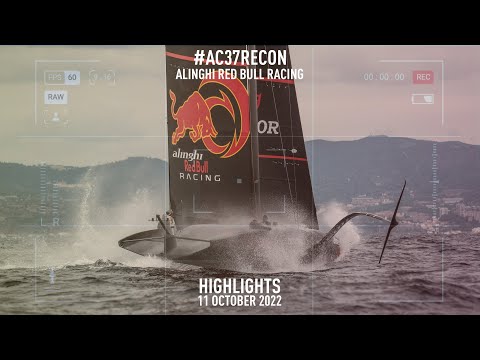 On-water Recon Team Notes: The team sailed in a conservative manner on account of the conditions of the day. The swell directly outside of Barcelona averaged at 1.5m in height, therefore the team decided to head North to sail outside Montgat and Masnou. This area was more sheltered from the swell as the land indents, however as the wind increased in the late afternoon, the swell filled in and the team decided to call it a day by 15:00.

Wind speeds were measured with anemometer 2m above sea level. At the time of Dock Out, the wind measured 9-12kn from the East. The wind increased to a steady 14kn at 12:00 until the end of the session, although the AC75 measured higher TWS values.
Sailing 12:10 - 12:40 (Majority in displacement, brief period of foiling, 1 Non-Foiling Tack),
Sailing 13:05 - 13:20 (Foiling on starboard tack),
Sailing 13:30 - 14:35 (Foiling and displacement, 2 Non-Foiling Tacks, 1 Foiling Tack attempt - touch down after passing through head to wind). Sails down 14:55 and tow foil back to base.



STATS

Wind Strength 10 knots (AM) 14 knots (PM)

Wind Angle: NE (AM) E (PM)

Helms: Arnaud Psarofaghis, Nicolas Charbonnier, Pietro Sibello, Yves Detrey

Power Group: Nicolas Rolaz, Arthur Cevey, Nils Theuninck

Temperature: 21 degrees & overcast. Sea State: 4

Crane in: 0920 Dock Out: 1120

Dock In: 1545 Crane out: 1635

Total Tacks: 4 (Displacement)

Estimated Speed: 17 knots

Estimated TWA: 90 degrees