With Paul Cayard's Team Artemis becoming the 1st syndicate to get the wing of their AC 72' out and to begin
testing in Valencia, a very big milestone, it seems like a proper time to conclude this 3 part series on Paul's
sailing career, the links to the other 2 parts are located below! Enjoy!
Paul at the America 1 Christening in Long Beach, CA
America 1:
Paul continued in 2000 with America 1. He was finally home fighting to bring the Cup to San Francisco for his home town YC, the St Francis. He talks about the beginnings of that effort:
" 1st of all, it was a grass roots effort and wouldn't have gotten off the dime if we didn't have Fritz Jewett who was the chairman, Larry Finch and Tom Seip who were backers of the campaign, putting in a few $ million each and then rallied a certain element of the club, many of which contributed a significant amount of money for a total of $10 Million in private monies. We did, through the EF Language/Whitbread campaign catch they and respect of Hewlett Packard and we landed hem as a sponsor. Their coming on board gave us a badge of credibility with corporate America. We were in competition with the NYYC for sponsorship with corporations and we parlayed that to Ford who had been with NYYC before. We now had about 2/3rds of our budget from corporate sponsors. We were really building this up as a team, as opposed to other models where an individual walks in and guarantees the funding. So the fund raising was our 1st race"
Smashing!
"The key with America 1 was the team as we didn't have a lot of money, (comparatively) so people stayed because they liked the chemistry. We stayed small. I like to believe that having myself on the boat and involved in all aspects helps build that. In a sense, everything is a horizontal structure, there is no hierarchy where someone makes decisions no one can see. I like to be around the guys, from going to the gym, sailing the boat all day and then attending design meetings and such. I think that example leads other people to behave the same way a others to follow"
"Bruce Nelson was our designer and he sailed on the boat a lot as the traveler guy. He's a great sailor and having him right there in front of me, if something popped in my head, my naval architect is right there and I get immediate feedback."
America One almost knocked off Prada who spent some $80 Million on their campaign and were already training in New Zealand when Paul came through on E F Language. One night I called my friend Francisco de Angelo and say " Just stay here dude, I have to finish sailing around the world and then I'll be back…. So there we were, racing him in the finals!"
America 1 vs Prada:
In the 2000 Louis Vuitton Finals , America One held a 4-3 lead in the best of 9 series only to have gear failure steal the opportunity to race for the Cup away. Paul's thoughts on that disappointing end.
"It was a tough pill to swallow. Through the human side of our team we almost triumphed over a huge financial competitor. The technical lesson was had changed our boat a little between the semis and finals to minimize the difference in technical dimensions between ourselves and Prada. We ended up making a larger mainsail as much as the one we had in the semis, so we ended up using our older smaller main when it was windy, sailing under our rating and it didn't hurt us. The last two races were less windy and we used the newer larger main which didn't light the world on fire. We had optimized the boat by lowering the keel and taking a penalty, which was to reduce sail area, which was a win. When we went for the larger sail area and less stability we kind of hosed ourselves. So in retrospect, we should have left well enough alone and not over think things."
Prada went on to meet NZ in the cup and was trounced. When asked if he would have expected the same fate to A1 if they had advance? "Yeah I think so, it would be naïve to thin that somehow we would have changed the outcome of the America's Cup"
Selling out to Oracle: Paul's thoughts on the tough decision to sell the syndicate he had formed to Larry Ellison and Oracle Racing " I had just got done racing a big budget team in Prada and knew the best we could muster would be another $30 to $40 Million campaign. I also knew that along with Ellison, McCall, Berterrelli were also going to enter and they all had $80-$100 Million each, so it seemed smarter to bow out and save our powder for another campaign. So we sold to Oracle and they asked for some of us to stay aboard until they got their program ramped up. I was originally schedule to stay for 6 months and ended up staying for 18. Ultimately Larry eventually decided it was better if I wasn't involved. That's business"
Sharing the helm of I' Moro at the boat show with a young fan!
WSL: Paul and Russell Coutts in 2007 announced the World Sailing League which was to race at various venues worldwide on 70' Catamarans. Although the league never received the funding they had hoped for ( See World Wide recession) The concept is strikingly similar to the new format for the Americas Cup. Just a coincidence?
Paul: "Russell is heavily involved in making the decision for the 34th Americas Cup. A lot of the work that we did for the World Sailing League is still fresh in his mind and that were embedded in the WSL are still valid and will be incorporated into the Americas Cup. Our whole concept was to make a sailing event that was much more exciting and sellable to the general public, people who don't know anything about sailing, that's who we were interested in. People who sail are always going to watch some kind of sailing, but if we want to grow the sport, and improve the commercial value of the sport, we are going to have to change the product. And that involve changing the boats
With son Danny at Star Worlds in SF circa 92
On Sailing the Americas Cup on SF Bay: Has it all sunk in yet?
"I don' think it has, I think it will really hit me when its actually going on, that I won't have to fly somewhere or move somewhere to participate in something that's really become part of my life. I am at this moment, 14 days after its been announced, (early 2011) I'm ecstatic and happy and figure it will cut out 90 days of travel from my life every year, which is a beautiful thing. A lot of frequent flyers are trying to get there status upgraded with mileage and my goal is to lose my 1K status! Sorry United!
Pauls' primary role at Artemis: " CEO, make the big strategic decisions starting with hiring the right people, managing the program within budget for our owner Torbin Torquist. Gathering information and a consensus and ultimately make decision as we go, like when we build certain boats , will we build 1 or 2, whether to train in SF or Valencia. There's just a myriad of decisions and my role is to lead. I will also be involved in raising sponsorship money to support the team.
With Steve Erickson in 92 Star Worlds
On lessons learned with America One:
"Maybe someone else should be the skipper and helmsman and take charge of the sailing team, which is full time job unto itself, and I should have more of a support role on the sailing team. Enough to know what's going on onboard the boat, to have the sensations and to be technically in the know so I can go back to the design meetings, the office and the drawing board. I was the tactician on some Louis Vuitton Races so I might be the tactician. But I will sail enough to have a pulse on the boat and be able to participate well in the design meetings."
Rinsing down Howie Hamlin at 2009 5o5 Worlds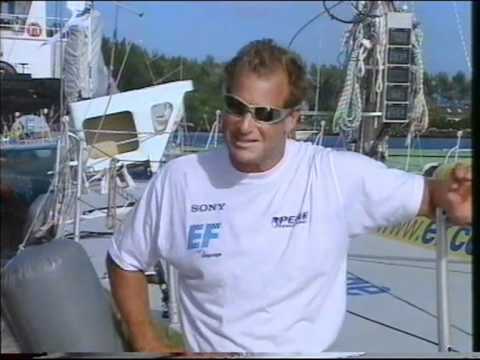 Paul in the 97'-98' Whitbread
Cayard Complete part 1
Cayard Complete Part 2