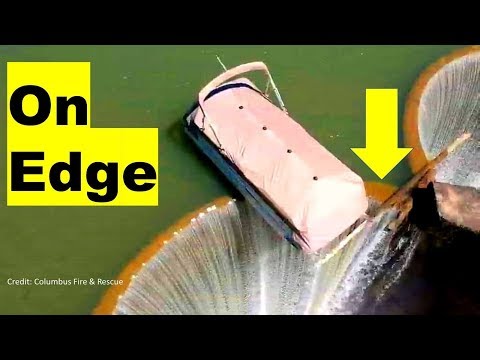 A pontoon boat broke its mooring lines in wild weather on Sunday April 14, 2019, in Lake Adger, NC. It drifted to the edge of the dam. North Carolina Wildlife officers hooked a winch to the boat on Tuesday, April 16, 2019, while their boat was tied to a tree. They were able to winch the pontoon boat to safety. Polk County Emergency Management asked Columbus Fire & Rescue to assist on April 15, 2019, and April 16, 2019, by taking drone footage of the pontoon boat teetering on the edge of the Lake Adger Dam which is also known as the Turner Shoals Dam.
The dam was built in 1925 at the confluence of the Turner Shoals and Green River in 1925 by John Adger's Blue Ridge Power. Today Northbrook Hydroelectric operates the dam which is leased from Polk County, NC. Lake Adger covers 438 acres and has 14 miles of shore line. It is a popular fishing spot in the mountains of western North Carolina.
The Polk County Fire Marshall also assisted with the retrieval of the vessel. Columbus Fire & Rescue gave media outlets permission to use their drone footage posted to their Facebook page.