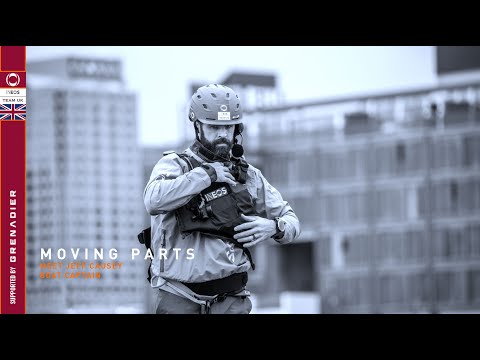 Jeff Causey, from the PNW worked behind the scenes with Oracle during the 34th AC campaign
and then with the Sail GP Team as boat manager and now works with INEO TEAM UK.. He is a devout Giants fan
but has a lack of judgement with his NFL allegiances...
The Boat Captain, responsible for ensuring BRITANNIA is prepared for sailing and her crew are as safe as possible every time they head out on the water.
Jeff Causey, Boat Captain of BRITANNIA, is heading into his third America's Cup campaign. Jeff grew up sailing around his hometown of Seattle, Washington, and raced throughout his time at College. That background led Jeff to a successful early sailing career including captaining the Portland State Sailing Team and being a member of many successful professional sailing campaigns from Sportsboats to Maxis. In 2010, however, a new challenge followed for Jeff.
"My first America's Cup campaign was with Oracle Team USA. I joined in 2010 as a rigger working on the AC72 yachts. It was a brilliant first experience in the America's Cup and one from which I still benefit to this day. In 2012, for example, when we capsized our AC72 on the eighth day of training and effectively wrote off an $8 million yacht I saw how wrong it can go, and now part of my job is to ensure if never goes that badly for us."
That first campaign was certainly a baptism of fire in the world of the America's Cup for Jeff. To this day Jimmy Spithill and Ben Ainslie both fondly recall how in 2013, just minutes before the crucial tie-breaking final race between Oracle Team USA and Team New Zealand, Jeff saved the day for the team when 30 feet up the mast he completed a crucial wingsail structural repair, which eventually enabled them to race and complete one of the greatest sporting comebacks of all time.
After that legendary America's Cup campaign, Jeff returned to sailing full time before he teamed up with Oracle Team USA again for the 35th America's Cup in Bermuda, this time as Rigging Manager.
"Those campaigns were very different to this one", explains Jeff, "I guess the primary reason being that I previously working for the Defender, and am now part a Challenger. That is straight away quite a different place to start.
"Each campaign has also felt very different to me because of the environment and venue. In my first campaign, in San Francisco, we were working out of an old warehouse, it was cold, poorly lit, and we were sailing everyday in tough windy conditions. It was an intense campaign which in a lot of ways made winning it that much better. Then, by contrast, in my second campaign in Bermuda we were in a brand new, sparkling clean base in sunny and warm Bermuda. It was more of an easy-living lifestyle, perhaps too easy as in the end we were unsuccessful."
Now, after a brief stint as Team Manager for TEAM USA in SailGP, Jeff has returned to the America's Cup world and reunited with Ben Ainslie with INEOS TEAM UK, joining the team as Boat Captain, responsible for ensuring BRITANNIA and her crew are as safe as possible every time they head out on the water.
"My role can be a little ambiguous, but in short what I try to do is get as good an understanding as I can of each part of the boat and each system on the boat, and help the great shore team we have here ensure nothing slips through the cracks as we put the boat together and operate her.
"Then, when out on the water, I manage the primary on-water support response for breakdowns or any issues we may have on the water. That means I need to have my head around every part on the boat, to some extent, and be able to assess the structural risks as they come up to determine if the boat is fit to continue sailing or not. Ultimately it's my job now to prevent the type of catastrophe we had with Oracle in 2013".
As part of that role, Jeff has been one of the few outside the sailing team who has regularly spent time onboard the team's two AC75 boats, BRITANNIA I & II. That experience has enabled him to directly compare the foiling monohulls of this Cup, to the catamarans he was previously used to in AC34 & AC35.
"At the beginning of each sail I will dock out onboard and usually do the first half an hour on board the boat, or if it's a day we're launching a new system such as a sail control system, I may spend all day onboard to keep a close eye on proceedings and ensure it's operating as we'd expect.
"These boats are really cool. For me it is great to go back to a big yacht after the smaller AC50s in Bermuda, and they are pretty wild. It can definitely be loose onboard, but as we've gotten better and better at sailing the boat it is starting to feel less extreme. On days when we have a little bug, however, it can be easy to forget just how on the brink of control we are. Then there is also a good amount of flexibility in the design of these boats and I enjoy that challenge of coming up with ideas to make it as efficient as possible."
Before an America's Cup boat goes out on the water for the first time, it needs to undergo structural testing. The boat is turned upside down and on its side, and significant loads are placed on key points to ensure the boat can withstand far beyond the expected load that has been predicted by modelling. BRITANNIA, INEOS TEAM UK's race yacht, underwent structural testing just before she left for Auckland. That process was led by Jeff with the responsibility to compress a process which took five weeks for BRITANNIA I, to five days for BRITANNIA II.
"That was an ambitious mandate", said Jeff, "but it felt achievable with my experience and the testing we had done in the past. We began planning for the structural testing in April, revisiting what had been done before and what we could learn from that process. Then, working with key players in the team including Dave Jonson [Structural Engineering Team Leader] and Brett Ellis [Engineer] we did a lot of engineering in terms of the layout for the test and got to a point where there was minimal stopping or resetting.
"A decision we made early on in that process was to do the testing at night. When you are doing testing like that it is very important to have the shed as quiet as possible. When you are putting a lot of load onto the boat, in one test we put over 50 tonnes of load through her, you really trying to listen for any small ticks or clicks that could indicate a problem arising. It was a lot of late nights and early mornings but in the end it all went very smoothly, and we checked through the entire testing process in five days, ready for BRITANNIA to be flown to Auckland".
More than anything, Jeff is a competitor. He grew up playing baseball and more recently, from his time with Jimmy Spithill, he has become a keen boxer. Off the water he still has friends amongst all the competitor America's Cup teams, but on the water he is looking forward to the competition.
"I'm really excited to compete. We are entering the fun part of the campaign now. It has been fun to finally be able to check-in and see what your competitors are doing on a daily basis. We have had all the reconnaissance videos, photos, rumours and gossip but now finally being in the venue and on the same piece of water, that's when it gets real. It is also the part of the campaign where it gets really gruelling, if it wasn't already, but for me that's part of the fun.
"The boat looks fast and we have high expectations for it. I have won the Cup as a Defender with Ben, which was amazing, but to win it together again this time as a Challenger in some ways is a much bigger challenge and we're looking forward to it. Lots of my good friends from the previous campaigns have moved on to other teams and whilst we can always share a beer and have a laugh, on the water we will be competing to the very end".