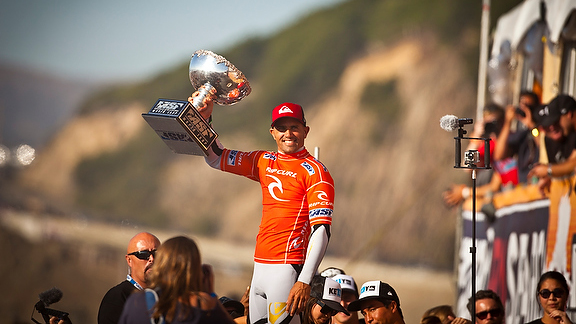 ©espn Joli
"Unequivocally the greatest competitive surfer of all time, 11 ASP world titles over 20 years puts Slater in "immortal" territory. But he's transcended both sport and stereotype. Surfing today is what it is because of him. To be a surfer and a household name, that just doesn't happen in America. And it's not just the U.S. -- the largest surf market in the world -- that loves him so. Around the world people flock to the beach by the thousands to see him do his thing."

ESPN on Pro Surfer Kelly Slaters remarkable 11th World Surfing Title won on Wednesday, November 2nd.
http://espn.go.com/action/surfing/st...s-kelly-slater
But wait a minute, seems there was was a slight problem. The celebration and victory was premature:
"In the wake of his triumph, Slater was perusing Internet accounts of the contest when he came across an interesting observation in the comments section. A reader named Mark noted that, by his calculations, Slater still hadn't qualified for the title and that world No. 2 Owen Wright still had a chance.

This was the moment of truth. Slater could have blown off the comment as folly, and nobody would have been the wiser. But that's not Slater. The remark sparked his curiosity and he did the math himself, over and over again. Presto - that guy named Mark was correct.

"Kelly immediately began spreading the word," Slater's agent, Terry Hardy, said. "He wasn't going to be able to live with himself if he won the title unfairly. He's going, 'We gotta call the ASP and let 'em know.'

"At first, they weren't ready to believe Kelly," Hardy said. "They were certain they had it right. But eventually, they realized they'd made the biggest mistake of their life."

Renato Hickel, manager of the ASP World Tour, took full responsibility and released a statement explaining the gaffe (it's a detailed scoring explanation, none of which makes a bit of sense to anyone outside the tour offices). "In the end, we should be held accountable for this," said Hickel. "We apologize to our fans, the surfers, and to Owen and Kelly."
Bruce Jenkins, SF Chronicle Saturday Nov 5th
Read more:
http://www.sfgate.com/cgi-bin/articl...#ixzz1crdlf9JW