Build it and they will come
A tad cliche' yet very apropos in this case. The new Riverview Park launching facility in Pittsburg California was unveiled over the weekend with the
1st Annual Board Meeting
a combo race, demonstration and big air show, with a nice turnout of kiters and the curious at this delta outlet which is often passed by and overlooked. Hosted by the newly opened
Kitebar,
the brainchild of Eugenia Gueorguieva, a former business management professional who grew tired of the corporate rat race and saw a unique opportinity awaiting and seized it.
Eugenia elaborates on the idea:
"Kiteboarding is experiencing tremendous growth, but there are limited areas in the Bay Area for launching and sailing, especially for beginners. Places like 3rd Avenue and Sherman Island are great, but often over crowded. Alameda is nice, but often has little wind. Some of the small spots in Emeryville and Berkeley can be difficult, especially for beginners with the onshore conditions and Crissy can be very cold with lots of traffic and big currents that can scare away the timid or unsure."
The park, located at New York Point at the mouth of New York Slough offers steady winds, warm water and miles of open water with minimal boat traffic. The City of Pittsburg has invested heavily in their waterfront in recent years via some federal funds, and the downtown area located just a few blocks inland offers a unique mix of historic buildings and quaint eateries and shopping. You can even take Amtrack right into town!
For those on the road, The Railroad Ave exit north off Highway 4 will take you into the Old Town District. Turn left on 6th Street and then right on Bay Side Drive until you get to River View Park Drive, then follow it to the end! It will save 40 minutes drive time and $10.00 in bridge fares, when compared to the haul out to Sherman Island, and when you finish kiteboarding or windsurfing, food and drink are but a short ride away!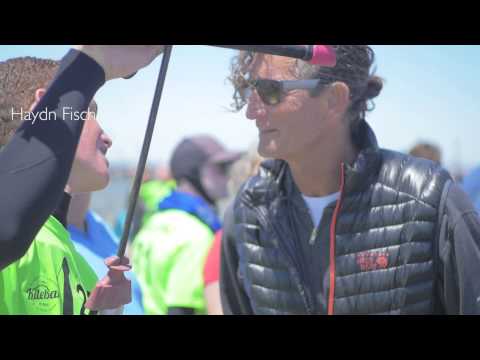 The launching area has been a few years in the making, as Eugenia explains:
"The idea of the launchsite came from a local kiteboarder, John Sweeney, who first approached the City with the idea to create an access point for kiteboarding at the waterfront three years ago. Several kiteboarders and business owners attended a meeting with the city mayor and council
members back then to explore the idea. I then rented the space at Plaza Marina to build the KiteBar (the place was just a cold shell and required a lot of construction to make it what it is now) and worked with the city throughout these past few years to design and build the a small watercraft
ramp with the thought to be ultimately used by kiteboarders."

"The City is ready to make more improvements to the ramp and the site, including installing an outdoor shower, improving the design of the ramp,
creating a beach for launching/landing and for spectators), provided there is interest by kiteboarders, which we proved to be the case last weekend!"

all images ©3rd Ave Kite - Cavian