What a difference a day makes. French rider Nico Parlier dominated his fleet with a flawless four bullets at the Formula Kite world championships as he revelled in unusually blustery conditions that suit both his racing style and equipment.
Even in his day's final race when reigning world champion Maxime Nocher (MON) threatened to finally snatch a victory on a searingly-quick reach to the finish, Parlier was just able to squeeze out his rival on the line in a photo-finish.
The contrast to the opening day of the International Kiteboarding Association (IKA) Formula Kite (foil) World Championships could hardly have been more stark. In dying light airs and sultry heat, Parlier could only manage a fifth spot in his sole race.
But on the competition's second day, with winds that built from about 20kts to around 26kts coupled by a mounting swell, Parlier was in his element on his smallest 11m Ozone R1 V2 kite and Mike's Lab foil that proved ideal.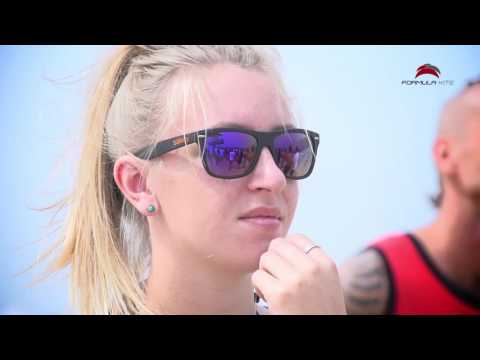 "These are definitely my conditions," he said. "Beforehand I was very worried about the light conditions I thought I'd find here. Certainly this spot is different from every other I've been to. There seems to be some dust or mud in the water. It doesn't feel fast. But I'm just trying to do my best and improve my skills."
His pitch-perfect performances in the conditions were at odds with those of the stellar group of chasing riders in his qualifying fleet — one of two for the men — who found themselves outgunned and overpowered.
Like Parlier, the likes of Nocher, Axel Mazella (FRA) and Florian Trittel (ESP) had expected characteristic light breezes to bathe the Yellow Sea off Weifang, eastern China, and had failed to register small enough kites for the championship's six days.
US rider Daniella Moroz, just 15, similarly destroyed a classy field in the 11-strong women's fleet, leaving reigning world champion Russia's Elena Kalinina, 18, far in her wake, with Steph Bridge (GBR) even further adrift.
With four emphatic victories in the women's fleet's four opening races, the teenager was in a class of her own. Her perfect day's work also mirrored that of Parlier in that she, too, deployed her Mike's Lab foil and Ozone R1 V2 kite with remorseless efficiency, though admitted her smallest 9m wing was overpowered in the punchy winds.
Moroz will be hoping the challenging breezes that match her home spot, San Francisco's Crissy Field, continue over the next four days of racing for the women's fleet, aware that arch-rival Kalinina is quick in light airs.
"I'm pretty happy with it," she said. "I was a bit overpowered. But with the wind in San Francisco, I was able to work with it. I tried to play it pretty safe, not do anything crazy and stay comfortable while keeping an eye on [Kalinina]."
The men will race one further day of qualifying, before being seeded into "gold" and "silver" fleets, with the top 10 securing places for the medals races of the final climactic day to crown the 2016 Formula Kite world champion.
Italian-Colombian Rikki Leccese staked his claim with a great outing, claiming three bullets and a second place in his fleet's four races. Noting that he, too, was on a Mike's Lab foil and Ozone kite begins to seem like a tired refrain and suggests the leading trio had some unfair advantage. They hadn't. But a change in conditions could change everything.
But for Leccese's closest rivals, Britain's Olly Bridge and Mario Calbucci, who racked up a clutch of second and third places between them, a shift in the weather might be their best hope of keeping them in the title hunt.
MEN Overall standings after five races (one discard):
1 Nico Parlier (FRA, Ozone/Mike's Lab) — 4pts
2 Riccardo Leccese (ITA, Ozone/Mike's Lab) — 5pts
3 Maxime Nocher (MON, F-One/Banga) — 8pts
WOMEN Overall standings after five races (one discard):
1 Daniela Moroz (USA, Ozone/Mike's Lab) — 4pts
2 Elena Kalinina (RUS, Elf/Banga) — 8pts
3 Steph Bridge (GBR, Flysurfer/Levitaz) —16pts
Full results men:
http://formulakite.com/images/docume...OverallMen.pdf
Full results women:
http://formulakite.com/images/docume...erallWomen.pdf