Day 1
Posted Thursday, June 07, 2018 All reports by Eric Due and Amanda Witherell
Boooom! The horn blasted through the ripping winds on the sunny San Francisco Bay today to start the 2018 Hydrofoil Pro Tour kite racing event hosted by the St. Francis Yacht Club. Fifty of the world's fastest racers, hailing from 16 different countries, silently took to their foils as they crossed the starting line, their kites powering forward in winds gusting in the low to mid 20-knots. A flood tide smoothed the water for the racers as they flew around the course as if dancing above the water. Two laps around the windward/leeward course showcased the incredible speeds and skills of these racers as they negotiated choppy Bay boat traffic and winds gusting into the thirties as the afternoon progressed. Kites looped through the air as the riders rounded the weather mark and powered up for incredible downwind runs hitting speeds over forty knots. The hydrofoils silently sliced through the water, leaving almost no wake, and competition for the lead was neck and neck.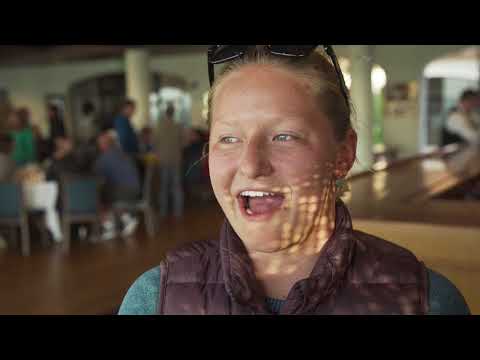 ****************************
Day 2 Report
Gnarly conditions. Epic racing. San Francisco delivered and more for the second day of the 2018 Hydrofoil Pro Tour at the St. Francis Yacht Club. Sunny skies and 20-knot winds blessed the first heats of the day and gave competitors their most satisfying rides.
Heat one blasted off with France's Nico Parlier (Ozone, Lynch & Associates, The Black Dog, Julbo) rounding the first weather mark and exploding, losing about ten places. He fought back and managed a second in the heat to Guy Bridge (Flysurfer, Mike's Lab) — an incredible comeback in tough conditions. "It was very hard. I had a nice little lead and I hit something and crashed," Parlier explained, noting that something went awry for him in all four races today, preventing him from taking any firsts after yesterday's five bullets.
all photos ©
https://stfyc.pixieset.com/hydrofoilprotour2018/
He didn't blame the wind, which was gusting well over 30 knots by the Golden Gate Bridge for round four.
Grinding upwind along the waterfront, ripping downwind while avoiding other racers, boats, birds, and flotsam, "It was gnarly conditions today," said Will Morris (StFYC), the top Grand Master after two days of racing. "There was a lot of carnage on the water, people crashing that you needed to avoid. I had a race where Jean [de Falbaire, MRI] was just in front of me and his board submarined and went down so I jumped off my board and launched over his head to avoid hitting him. I landed on the other side and my board bonked into him, but he just got up and kited away."
Britain's Guy Bridge (Flysurfer, Mike's Lab) made the most of it and nabbed three first place finishes to maintain his hold on third place overall. "It was a little bit survival by the last one," he conceded, "But there's no point in holding back – you always have a discard!"
The top three tightened up, with just six points now separating Parlier, StFYC's Johnny Heineken and Bridge. Titouan Galea (F-One/Manera) is just one point back in fifth behind Connor Bainbridge (GBR).
"I had a good morning, terrible afternoon," reported Bainbridge. "I don't think anyone expected it to blow as much as it did. It was a case of holding on and getting around. For the local guys, this is their spot and they did pretty damn good."
The classic Crissy Field conditions saw some locals claw back points with Joey Pasquali (F-One/Manera, Mike's Lab) solidly in sixth and Seth Besse (F-One/Manera, StFYC) fighting for tenth. Top Junior and Female Daniela Moroz (Flysurfer, Mike's Lab, Sperry, Ronstan) took more solid finishes in the top ten and sits at seventh overall, putting pressure on Joey Pasquali. For complete standings see the official results page.
Clicky
StFYC's Chip Wasson, second Grand Master, said, "There's a south twist in the wind which makes it very gusty. The top of the fleet is so fast and they're feeding off each other. When you're not in the top ten you don't get to feed off it, too. It's a bellwether for the sport that these minor differences make it so much more critical."
Hydrofoil racing pushes the boundaries of carbon technology, kite ram air foil designs, load limits and athletic judgement. As boards, foils, kites and lines push limits of strength, weight and performance, other limits are bound to be hit. Italy's Riccardo Andrea Lecesse (Ozone, Mike's Lab, Evobars) found those limits during day one when his carbon bar exploded under load, almost severing a finger and putting him out of the racing. He is reportedly doing fine and undergoing surgery, however, this shows the limits and edges of technology these riders are pushing.
Winds were still gusting heavily across Crissy Field beach as the racers packed up their kites, dropped their tailgates and popped the tops on some Fort Point beers for the evening's social. Competitors who'd been hollering at each other to avoid collisions on the course now mingled and recounted their feats while sponsor Sunskis rolled up with fresh supplies of beer, sunflowers and sunglasses. Nobody was especially looking forward to Saturday's distance race, The Bay Challenge, where racers launch for a speed run downwind to Berkeley, then tack their way back out of the East Bay. Speed, tactics and course are all up to the racer to find the fastest path. Will Parlier, who won it last year in 30:12, beat his own record in conditions expected to be as windy as today?
***********************************
Day 3 Report
It was absolutely neck and neck for three heats of course racing on Day Three of the 2018 Hydrofoil Pro Tour at St. Francis Yacht Club. Racing commenced at 11am in stellar sunny conditions with winds gusting as high as 36 knots, but dropping into the 20s for The SF Bay Challenge – the Tour's fourth heat of the day with additional kitefoiling and foiling windsurfer competitors.
Heat one, competitors powered off the line with Nico Parlier (FR) rounding the weather mark first and Guy Bridge (GBR) and Johnny Heineken (StFYC) riding his wake. Heineken split to the outside on the downwind leg going for the tide and clean wind advantage in a play that payed off as he finished second behind Parlier.
Heat two saw Junior racer Toni Vodisek (SLO) in front of the fleet with an amazing start, rounding the weather mark in front of Parlier, Bridge and Heineken. Under pressure and ripping downwind he managed to hold on to fifth as Heineken, Bridge and Parlier passed him for the second windward rounding to finish in that order. Connor Bainbridge (GBR) hauled in Toni for fourth at the line.
Heineken had an outstanding comeback after a rough start and tack issue in heat three. Rounding the first weather mark in 14th, he hauled in and powered up hard to claim another bullet with Bridge and Parlier taking second and third.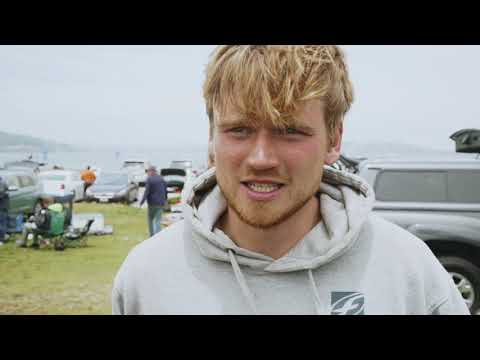 "I made fewer mistakes today and it was fun in the full-on ebb chop this morning," said Heineken.
Titouan Galea (FR) had another consistent day followed by Bainbridge, StFYC's Joey Pasquali, and Florian Gruber (GER) now sitting at seventh overall.
"I started the Tour bad but every day I have gotten better and better, so I am making a small comeback," said Gruber. "Today was awesome. Tomorrow is going to be tight between me and Joey."
Pasquali's holding strong at sixth and scored a fourth place finish in the SF Bay Challenge – which was particularly challenging this year. The gusty, 20-35 knot westerlies that have not let up since the Tour commenced dropped out entirely during today's fourth race, a 15-mile distance run from St. Francis Yacht Club downwind to Berkeley Pier and upwind back to the club.
"I made it to the bottom first, I rounded the mark first, I made it to Blunt first and I hit the wind hole first," said Heineken. "I had a lot of firsts in the race, but not the ones I needed."
Dozens of other competitors followed Heineken into a giant wind hole on the south side of Angel Island by Blunt Point, about midway down the course.
"Blunt is usually very windy," said StFYC's Vice Commodore Paul Heineken, a veteran windsurfing competitor at the helm of one of the day's Race Committee boats. "Johnny's kite just fell out of the sky. Nico [Parlier] saw it and went low."
Parlier stayed in the grip of the wind and won the challenge with a time of 38:03, nearly two minutes ahead of the second finisher, Titouan Galea (FR). Kai Calder (USA) crossed a minute later, followed by Pasquali, who avoided the wind hole entirely.
"My tactic was to point straight at the [StFYC] clubhouse," said Pasquali. "A lot of guys went toward Angel Island, but I was able to get through it pretty clean. Going away from everybody was what really paid. That's what this race is all about. It's a huge stretch of bay you can navigate in so many different ways."
After swimming for a while, Heineken managed to fill his kite with a puff and relaunch to finish eighth, but the shifty wind permanently stranded 50 kitefoiling competitors and seven of the eight foiling windsurfers. Only ten kiters finished, six of them Californians, suggesting local knowledge played a role.
"It's a tough location," said Gruber. "It's really hard to predict the wind. It takes more skills, there are currents and wind shifts on the course. That's why Johnny does so well. He knows where to go."
Though Parlier has maintained a lead for three days, with the top three separated by only seven points, the Tour could end in anyone's favor tomorrow. High speeds, rough water, gusty conditions, tiring racers could make or break it for any of the top ten. The final day of racing for the 2018 Hydrofoil Pro Tour starts at 1pm PST tomorrow.
"Tomorrow looks windy," said Heineken with a smile. "I'm excited for it. I feel good."
SF Bay Challenge Results
Results
Hydrofoil Pro Tour