Captains Log 14th June.
The opportunity in the Obstacle!
Learn, apply, reset, implement, move forward.
New World Record - 212mile, open ocean unsupported Wing-foil mission giving back to Education, Ocean & planet.
Success means something different to everyone.. for me it's about starting something that you have dreamed of and planned for years and implementing it.
Getting to the start line is always my definition of success, if you achieve that you have already won, as you have often already done more than most, who simply talk about doing things, but that's all that's done..
Over the last couple of weeks and months we have had so much amazing support and help from so many different people, places, my team, friends and Half Moon bay community & family.
We started planning this journey 18 months ago & last week I started the TransPac Wing Project expedition, on the perfect day that just happened to be on World Ocean day! Serendipitous.
[IMG]http://www.pressure-drop.us/imagehost/images/49972514424917675878.jpg
[IMG]http://www.pressure-drop.us/imagehost/images/60664298741533277087.jpg
I started from Half Moon Bay for multiple different reasons..and one of them was so that when I left, I could skirt the coast South, Incase over the first 72hours there would be any major issues that came up before turning right-West to head far offshore into the Pacific, as after that decision is made you are on your own and there's no turning back..
At about 7pm the second night, my little craft had a leak and I started taking on a little water from some point that was difficult to access, but after a couple hours I managed to address it and fix it with some expandable foam sealant I always take with. I got through the next couple of days and then moved down into the Big Sur region where the Fog rolled in and seas increased to 2-4 meters and wind set in to 25-35 knots and very cold and Misty conditions.. where I couldn't see more than 30ft in any direction for 36hours!
No problem, just deal with it, that's what I've prepped and trained for.. working through those situations, through the day and night alone.. then as the winds started easing a whole lot of my main electronics systems drained, which shouldn't happen through the night, as I have been monitoring and managing things correctly, like I always to vigilantly on these types of expeditions, which is key to your success & survival of the project always.
I went onto my sea anchor until morning, so with the morning sun I could start recharging my systems and reset and move forward and it was then that I realized, moving forward across the Pacific without addressing just these two key items was not something I could do. It's really that simple.
When this happens at near the end of your journey, you find a way to make it work and get to the finish, but when it happens at the beginning of your expedition and you have the choice to correct it or move forward despite the knowing of this happening again not addressing it appropriately, this is the definition of foolish & reckless.
On expeditions like this, all others in extreme & remote nature environments, those decisions become pivotal decisions that save your life and don't put yourself and many other resources at risk.. the difference between those that make it and those that often don't come back at all..
So at this point I decided to take the route closer along the shore as the tracker shows and winged into a couple miles off of Morro Bay last night, so I could come in and get these issues I had already addressed, but would surely come up again and again on the journey.
As the wind died close off the Morro bay Entrance, I had been in contact with the awesome team at the Morro Bay Coastguard all that day so they knew I was good and safe and may need a short tow in once I got close, as coming into the entrance of Morro Bay at night in the fog is radical.. they were amazing and saved me another 4 hours paddle, as the wind had died.. so stoked for the help from these guys.. it was a very long day & shift that I had been in since 4am -10pm that night.
https://yb.tl/tpwp2021#
So I'm wrapping up in Half Moon Bay, getting the craft out and trailering her North today to look at getting the electronics sorted.. might take some time, but that's ok..
What an awesome ocean shakedown and another record set so many valuable insights, experience and knowledge gained to apply before I look at re-starting.. either over the next month, or early next season, depending on everything needing to get updated and fixed, before resetting and moving forward.
Either way I am very happy with the craft and wings and Foils and how she sails and feel confident now, once the issues are sorted I will be able to do the crossing at least 15% faster than I had forecasted..which is amazing news!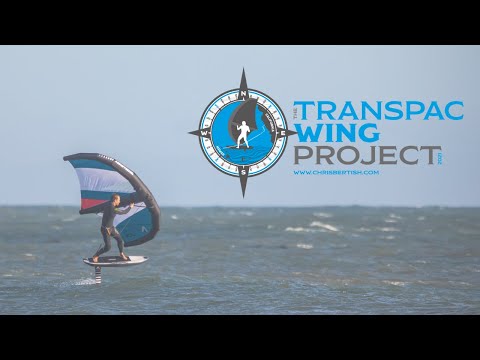 Knowledge, experience and making the right decisions are everything to move forward and have the intended successful outcome and achieve all goals so everyone wins!
That's always the plan and I'm looking forward to continuing to execute on this till it's done 🙂
Thanks everyone for the amazing support all over the world and from my beautiful fiancé & team.
It's just the start, reset and keep moving forward!
https://chrisbertish.com/project/transpac-wing/