When it comes to big wave contests, there is one that's different from the rest: Nazaré. It's not a perfect wave like Jaws, not a giant monster slab like Teahupo'o. What it lacks in shape, though, it makes up for in size. And the organizers of the Nazaré Tow Surfing Challenge just issued a green alert.
The green alert is for on Thursday, February 10, and as you'd expect, the swell is… BIG. A massive storm currently howling between Greenland and Iceland is producing hurricane-force winds that are whipping up 50-60-foot waves. The official forecast is calling for a long period swell that builds through Wednesday, with waves in the 40-55-foot range on Thursday. Light offshore winds at Nazaré look likely, so it's a sure bet that conditions will be epic, to say the least. While it's not 100 percent that it will run just yet, it's more than likely.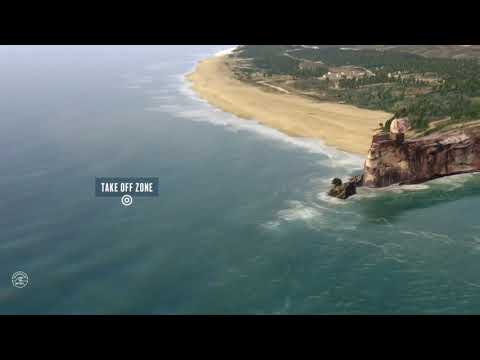 The Nazaré Tow Surfing Challenge has an interesting format. It's a one-day event that has tow-in teams. Nine teams of two competitors will compete for Men's Best Performance (male surfer with the highest two scoring waves), Women's Best Performance (female surfer with the highest two scoring waves), and Best Team Performance (total of best two scoring rides of both team riders). On contest day, there will be six, 60-minute heats. Each group participates in two heats, with the team members alternating between surfing and driving the ski.
There's a reason why the waves at Nazaré get so mind-bogglingly big. A deep-water canyon shaped like a funnel sends an enormous amount of energy directly towards that particular stretch of Portuguese coastline. It's 130-miles long and at its deepest point, it's over 16,000 feet deep. All the energy from those enormous open-sea storms funnel to a point and unload in front of that famous cliff.
Below are the TUDOR Nazaré Tow Surfing Challenge pres. by Jogos Santa Casa Invitees:
Team Red: Lucas Chianca (BRA), Nic Von Rupp (PRT)
Team Cyan Blue: Justine Dupont (FRA), Antonio Laureano (PRT)
Team Brown: Andrew Cotton (GBR), Will Skudin (USA)
Team Pink: Rodrigo Koxa (BRA), Eric Rebiere (FRA)
Team Green: Axi Muniain (EUK), Francisco Porcella (ITA)
Team Blue: Michelle Bouillons (BRA), Ian Cosenza (PRT)
Team Yellow: Rafael Tapia (CHL), Jaime Mitchell (AUS)
Team Purple: Joao de Macedo (PRT), Antonio Silva (PRT)
Team Black: Maya Gabeira (BRA), Pierre Caley (FRA)
Watch the event on Worldsurfleague.com
SOURCE