Felix competing in 2013 Kiteboarding contest at Crissy Field


The news broke over the weekend about a shark attack in the Point Reyes National Seashore about a person missing after
swimming in the waters off Wildcat Beach. An extensive search yielded no recovery of the victim and has since been called off.

The victim is now identified as 52 year old Felix Louis N'jai, a well respected kitefoiler that came to the US from Gambia a few decades ago, and was intrigued by the new phenomenon that was evolving locally at Crissy Field. Equipped with a spontaneous smile and positive attitude, he quickly learned the sport on borrowed gear and became a beacon of light and the life of the party when at the beach or other
celebrations.


The kiteboarding community has been rocked by the news and condolences are pouring with heartfelt messages such as:

"Felix was the coolest happiest friendliest guy at the beach! We will miss you buddy. "See you in church". "Life's a Felix event!"



"Shocking and horrible! I always loved Felix's saying: "See you in church!" Felix had many churches in Tahoe, Hood River and at Crissy Field. We will all miss you so much!"


"RIP Felix. I could be having a crap day but seeing that smile on the beach, untangling his line, always friendly, would snap me out of it and make me realize how lucky we all are. Hard to process this. Miss you buddy."


"I just can't process this.. Felix was always such a fixture at Crissy, Hood River and Tahoe for us… all the work he's been doing to represent Gambia in the Olympics, all the training. Such a tragedy and loss to the community "


The site of the fatal encounter


Felix creating the positive ambiance at the 2015 Kite Foil Gold Cup
image : Rikki Robbie Racing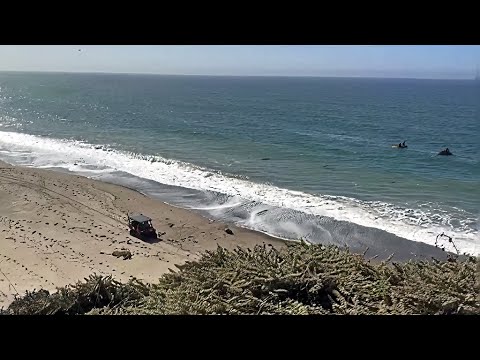 Shark Attack: Search Suspended After Person Pulled Under at Point Reyes National Seashore, Reports Says:

https://sfstandard.com/2023/10/02/sh...wildcat-beach/
The U.S. Coast Guard on Monday suspended its search for a swimmer who was reportedly attacked by a shark and pulled under over the weekend in the waters off Point Reyes National Seashore in Marin County.
A search and rescue had been underway Sunday involving the Marin Fire Department, the National Park Service, the Marin County Sheriff's Office and the Coast Guard.
The swimmer, whose name has not been released, was reported missing near a remote area called Wildcat Beach about 10:30 a.m. Sunday.
"The U.S. Coast Guard suspended its search in the frigid waters this morning, but a ground search is being conducted by first responders from the NPS, the Marin County Sheriff's Office and the Marin County Fire Department, and the Stinson Beach Fire Department," according to an advisory from the National Park Service.
The search was initially conducted by land, water and air, officials said.
A witness at the scene of the apparent attack told The Standard the victim had previously been celebrating a wedding and, afterward, had gone backpacking with a group of wedding guests when the incident occurred.
Samantha Edell told The Standard about alerting emergency services to the attack when camping with her son on Sunday.
"My son came up to me, and he said he heard some screaming," Edell, who lives in Castro Valley, said Monday. "We came out, and a group was gathered around that area where the water is, and they were looking for someone who could call emergency services because there's no cell service there."
After Edell brought members of the group up to her campsite, they asked her if she could call emergency services. She did so using her Zoleo satellite communicator—a device that extends cell phone coverage and makes emergency calls.
"They told me that their friend was out swimming, and he was attacked by a shark," Edell said. "I said, 'How bad is it?' They said he never came out of the water."
After hitting the SOS button on her device, she followed a group down to the beach, where another man said he was already in contact with emergency services.
"There was another man on the beach who had an iPhone that had satellite facilities. He was already in contact with emergency services, so I ended my SOS call," Edell said. "He said that they were on their way already and to go up to the top part of the campground and to wave them down when they got there."
Edell said a woman in the group told her they had just attended a wedding and had gone backpacking together after the event.
"I told her to keep an eye out for the rescue people, that they were on their way," Edell said. "It was a large party. People came in from all over, as far as Europe."
She said it was the first time she had ever used her satellite device.