The third BT Boats Kiwi40FC Class40, Bodacious Dream, was recently launched at Hakes Marine in Wellington, New Zealand. Before the boat leaves for the US, her American skipper, Dave Rearick, is taking the boat test sailing in Wellington Harbour.


For Lapo Ancillotti, Bodacious Dream represents the BT Boats ideal of an all-round, high-performance Class40: "We definitely wanted to design an all-round Class40 and I had the feeling that most of the designs are fairly specialised, specifically for reaching," says Ancillotti. "We wanted to develop a boat that could be raced effectively in many circumstances, short-handed, fully-crewed, inshore and offshore and I think we've really achieved something."

Bodacious Dream is a Kiwi 40FC. A Class 40 design from BTboats in New Zealand. www.BTBoats.co.nz

Class 40 refers to a specific class of boat. The Class 40 is a box rule that has specific parameters for design limitation that include a number of things, but simply put, length, draft, beam etc are controlled by the design rules. There are some areas where designers can modify the design to make a boat faster in certain conditions, but these generally result in lesser speeds in other conditions….trade offs are a part of the design business.

The Class 40 boats are designed to be efficiently handled and raced by one or two people in offshore or trans-oceanic events.

Another aspect of the Class 40 rule is that they specifically limit exotic materials, equipment and construction in order to limit cost and encourage the building of a safer and more reliable platforms which, by regulating all competitors within the rule, allows all boats to race on a more equal level. In much of sail boat racing, designers are looking for the next speed edge….either with lightweight construction, exotic materials or breakthrough design innovations. With the Class 40, there is very little speed difference between designs and generations. Presently, the Class 40 boat designs are into the Third Generation of design. Designed by Farr Yacht Design, the Kiwi 40FC is a third generation Class 40. It is design is refined to the racing edge of the spectrum.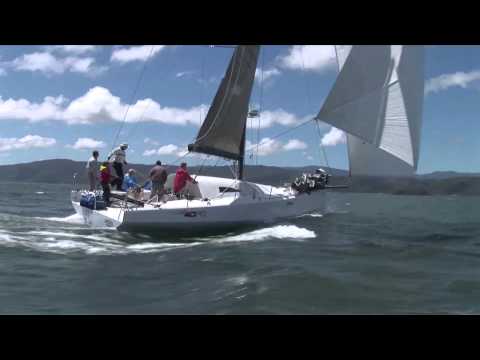 Dave Rearick has been sailing and racing the Great Lakes and coastal areas since his childhood. He has won many events and held records including the single-handed Mackinac race from Chicago to Mackinac Island as well as the Solo Super Mac- single-handed race from Pt. Huron, Mich., to Chicago (600 miles!).

Dave began sailing at age 12 on the family Sunfish from the shores of Lake Michigan. He grew up racing Hobie Cats, Lasers and the Sunfish until relocating to Maine at age 20 and taking a job with the Hurricane Island Outward Bound School in Rockland.

Sailing in Maine found Dave on more traditional craft from open pulling boats to large schooners and lots of variations in between. Since returning to Indiana in 1980, Dave has sailed and raced many boats, from J 24's to Open 50's on the Great Lakes and both coasts.........continues

Dave Rearick Bio
http://www.globaloceanrace.com/?page=news&news_id=618
https://bodaciousdream.com/Home_Page.html
http://www.btboats.co.nz/