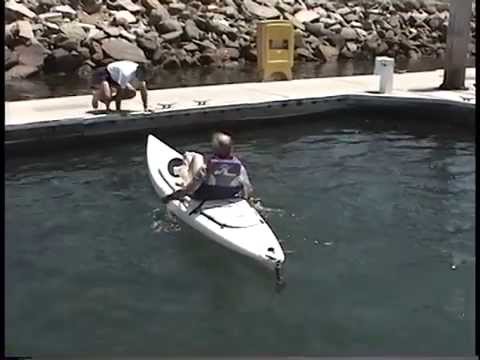 Oceanside, California – (April 3, 2012) - On the beach in Oceanside, California…the year was 1997 and Greg Ketterman, Hobie's VP-Engineering would be instrumental in introducing the MirageDrive that would subsequently revolutionize kayaking.
Inspired by the desire to produce a leg-powered kayak, he felt it made a lot of sense to propel the kayak with the lower body and leave hands free for other things. "I also felt that a back and forth motion would be a lot easier than a pure rotary motion, thus the idea to use underwater flippers that could twist and flex and assume the shape of a propeller blade – or a Penguin's wing."
Two year before, across the country at MIT in Cambridge, Massachusetts…a young student named Jim Czarnowski was searching for inspiration on how to use the movement of a fish to build a propulsion system. After all, fish have been on earth, using a flapping fin for propulsion, for about 500 million years, so the concept was a proven success.
While searching for inspiration at the New England Aquarium in Boston, he was drawn to the large five-story circular fish aquarium in the middle of the building and spent many mesmerizing hours viewing the penguins that were efficiently zipping by. It turned out, like Greg's research had proven, that they would be the perfect analogy for the MirageDrive….a nearly rigid body (kayak hull equivalent) and two powerful and efficient flippers (turbo fins). Determined to see if a boat could be propelled efficiently with underwater flapping fins, Jim earned his Masters degrees in Mechanical and Ocean engineering while constructing and testing several "Penguin Boats" that proved the possibility for practical and efficient flapping fin propulsion of a rigid boat hull.
Greg read about Jim's work, realized the possible conflict of interest and potential patent issues and did what any VP-Engineering would do….he hired Jim to come and work for Hobie. Jim has now been on board as Hobie's Director of Engineering for ten years.
The Hobie MirageDrive was subsequently patented and has defined Hobie kayaks ever since. Anglers, birdwatchers, photographers and recreational kayakers all over the world now maneuver their Hobie's virtually hands-free.
After years of testing to produce corrosion-resistant and durable products that will withstand harsh environments and 15 years worth of refinements including weight reduction and increased durability, the MirageDrive is currently the iconic feature on 13 Hobie models.
www.hobiecat.com