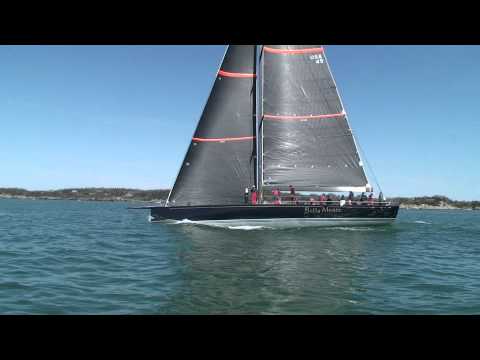 Video via Billy Black of Bella Mente III during yesterdays sea trials.
Below crew member Doogie Couvreux talks a little about the earlier shakedown;
Yesterday was again blown out but today we had a good day on the water. We got off the dock around 8:30 in a brisk, cold breeze. After hoisting the main, we hoisted the jib top and genoa staysail and had our first look at those. We sorted out some sheeting points for the Jib Top and sorted out the GS system. The GS goes on a lock in the mast and then gets tensioned with a ram at the tack, so we had a few adjustments to make it work. There are a few more things to sort out to get that sail up quickly. Then we hoisted the A3 and got a good look at that. We are using a top down furling system for the A3 and so far it seems to work well. This system should make the sail more user friendly and not have the horrendous packing job the A3 was on the old boat. We then sailed upwind for a while and then turned back toward Newport with the A3. Again, the A3 seemed to perform well. We tried a few different techniques to connect and hoist it. Tomorrow we will continue working on the main reef system and we will also start looking at different options for certain sail changes.
Doogie
Launched in spring 2012, Bella Mente is the 2nd racing yacht built for owner Hap Fauth. This latest Mini Maxi is 72 feet long and was designed by judel/vrolijk & co yachtdesign. Built by New England Boatworks, Bella's features include a Hall Spars mast, Southern Spars eC6 carbon rigging, running rigging supplied by T-E-C (TRABAJOS EN CABOS S.L.)/MARLOW MGP series, a winch package from Harken, hydraulics from Navtec and Cariboni, and sails built by North Sails.
2012 will be a busy year for the Bella Mente team. Consisting of sailors from the US, Europe, and New Zealand, the crew plans on launching the boat on the US Coast in time for the Block Island Race and Newport to Bermuda. From Bermuda, the boat will go to Europe and compete in several regattas. 2012 will end "Down Under" with the Sydney Hobart Race.
http://bellamenteracing.com/