Just arrived at KKMI, the Reichel/Pugh Southern Cross 52 "Meanie", formerly Vella Veloce. Built for Richard Oland, hier to the Moosehead Brewery of St John Brunswick, Canada. Richard, an affable, well respected gentleman within the yachting community was tragically murdered just a year ago. The axe murder remains a mystery as to the suspect or the reason.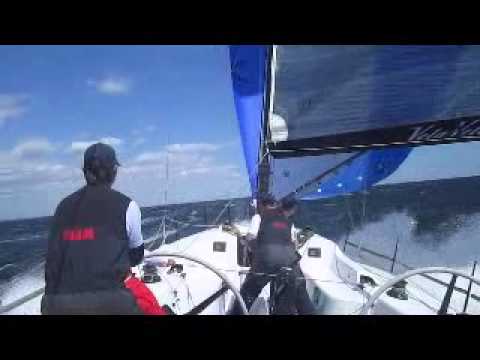 Built in 2009 by Davie Norris Boatbuilders - NZL as a semi-custom IRC racer. The Southern Cross 52 is similar in design concept to the Transpac 52 but incorporates interior conveniences such as a proper galley, enclosed head, comfortable berths, and a wood cabin sole presenting a more finished interior. The Southern Cross 52's additional freeboard and deck house provide substantially more interior volume and comfort when compared to the TP52. The deck layout is designed for racing and versatility, especially offshore and features a large open cockpit with linked pedestal grinders for the primary and mainsheet winches.

Vela Veloce is a sturdy build of carbon fiber sandwich composite and was specifically constructed to endure the rigors of offshore racing. A sister ship to highly successful Vincetore, Vella Veloce has been extensively campaigned throughout North America competing against several TP52's and IRC 50's with equally great success inshore as well as offshore. Constantly updated, Vela Veloce is in perfect condition and represents an ideal and well developed 'turn-key' racing program
Seahorse
The new owner is no stranger to the 50' plus ocean racing world. Tom Akin of the SFYC, who's stints with TP' 52 "Flash" and SC 52 "Lightning" have done exceedingly well in Pacific Cups, Transpacs, BBS's and other offshore events. With former Samba Pa Ti
Eric Arndt
Running the program, you can expect a well oiled machine in which ever event she competes!