A small group of college student from the East Coast have been working feverishly to design, build and set sail, a fully automated craft capable of crossing the North Atlantic on its own power, unassisted, the vessel, running on solar power and propeller, is near completion and is in testing period, check out the details below!
Scout is a twelve foot long autonomous robotic boat designed to cross the Atlantic Ocean, relying only on pre-programmed commands and information that it can collect about its environment through sensors. It is built to deal with anything the ocean can throw at it, and its status will be reported live online. It is scheduled to set sail for Sanlucar de Barrameda, Spain, where Columbus left for the New World on his second voyage. Check out the
build page
to see how Scout is being constructed.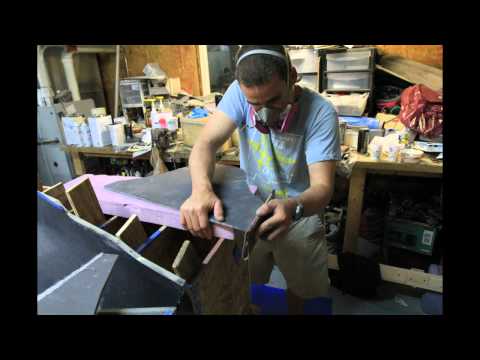 While the project started in Winter of 2011, we're planning to launch in the summer of 2013. Check the blog for the most recent updates.
What is the objective of this project?
We're building a solar powered boat that can navigate its way across the Atlantic Ocean using only sensors, previously programmed commands, and information that it can gather along the way.
Some Statistics
Scout is 12.8 feet long,
25 inches wide,
weighs a bit under 140 pounds.
will travel at a cruising speed at between 3.5 and 4 knots.
will relay telemetry information via Iridium 9612 every hour
will be trackable at WheresScout.org
Is this project affiliated with a company or university?
No.
Is this the first time this has been done?
If the boat successfully makes the crossing, yes. The previous record for the length of time spent on the water by an autonomous surface vessel trying a transatlantic trip was set by the Pinta in 2010. The Pinta is suspected to have capsized or have been hit and sunk by another boat after numerous system failures. The Pinta sailed for over four hundred hours but made it only 61 miles off the coast of Ireland.
Why not a sailboat?
It might seem that we should be using a sailboat to do the crossing. After all, you wouldn't have to power much- the sail gives it enough energy to move forward, and you'd only need solar panels for the onboard electronics. However, we've looked at the landscape of robotic boats so far and realized that we probably wouldn't be able to do it, or that we'd have a better shot doing it this way.

As anyone who owns a sailboat knows, when you fix something on a sailboat, something else will break. We've been breaking and fixing things on boats for years; It's difficult to "keep it simple" when the boat would be exposed to such a variety of conditions. There are three main concerns to building such an animal:

-It is physically more complex; more forces on it (from the wind), easier to capsize, difficult to stow the sail in adverse conditions, wind is shifty near the surface of the water in such large waves
-More complex programming- upwind sailing, tacking, etc.

http://gotransat.com/