After 14 years of blood sweat and tears, and money. Lots of money, the 140 year old Freda was splashed at the Spaulding Boat Center over the weekend with a SRO crowd in attendance. The 1st thing you would notice, was Freda, an Eastern Seaboard Sloop was missing her rig. " All in good time," says Dick Enerson, the photog providing image for this
piece and one of many financial contributors which pitch in for the estimated $500,000 restoration of the vessel. "They hope to have the mast completed in 3-4 weeks and installed shortly thereafter, but with these things, time is relative"
The Marin Scope
provided a good preview to the launching and
The Marin IJ
provided nice splash down coverage,
incase you missed it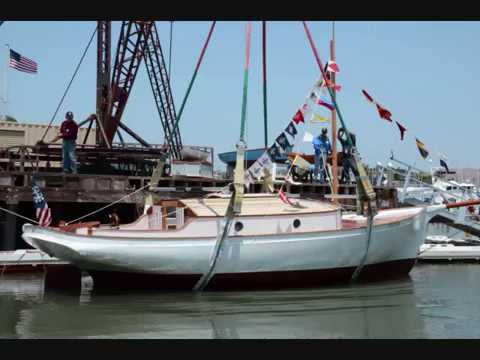 Sergei the Magnificent
was also in attendance and provides the video above and a gallery of way to many images for you to enjoy!
Nice work all the way around!