We had the pleasure to visit the RBS Batten System World Headquarters in Hood River last week and chat with the owner and founder Romeo Robichaud and Sales and Marketing director Scott Walsh last week, and learn a little about the company and it's history. The unassuming building which houses the company lays adjacent to the Hood River Events Center, the windsurfing and kiteboarding park just east of the Hood River Bridge.
RBS Batten systems is a family owned business that has been in existence since it humble beginnings in San Diego back in 1985. For nearly 3 decades now, the company has perfected the art of batten production and are the primary vendors to some of the biggest names in the business. North, Quantum, Doyle, Ullman and UK sailmakers are among the biggest brands, but they also service some of the mid size sailmakers and boutique lofts as well. RBS still has a presence in the windsurfing world, providing battens for the sole remaining US production company, Northwave, who's loft share's the building with them. The Volvo Ocean Race selected RBS Battens for their boats, a testament to the company's reputation with the industry leaders!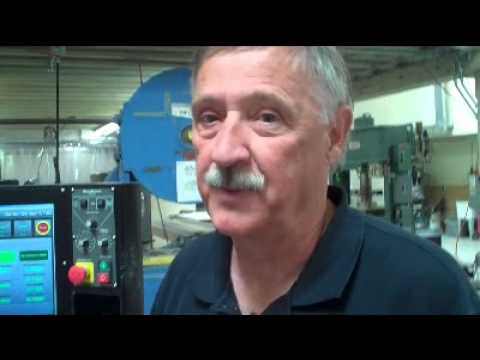 When asked what makes a good batten, Romeo replies: "It's the glass to resin matrix. Simply, the cheaper battens use more glass because it less expensive than resin. The higher glass battens look and feel stiff. If you run your hands along their edges, you can feel the roughness. When put under load, the stiff glass doesn't give and the batten blows apart"
The production department of the facility includes a vast variety of glass and carbon stock which is shipped from their vendor in Colorado. The stock is the cut to length and then tapered a on the specialized CNC machine to specifications of the sailmakers.
The battens are the layed up with the exterior skin, again to sailmaker specifications,
and again passed through the CNC machine before hand sanding to remove and sharp edges before heading to the spray booth for a final protective layer. All battens then get their own labels indicating the sailmaker, the battens code and the batten location.
RBS also manufactures a large variety of
end caps and tensioners
Larger battens can be spliced, using RBS's innovative scarfing and splicing system, enabling the shipping and storage of larger lengths at a more convenient size, and avoid excessive size shipping costs.
RBS also manufactures an innovative tapered thermoplastic roller batten, which provide superior sail shape for roller furling sails!
Roller Battens
In addition to sail battens, RBS manufactures backstay flickers, support battens for chais and backpack manufacturers and well as supports for tents and awnings, among other things. If you need a specialized glass or carbon support, RBS can probably make it!
Looking for replacement battens for your sail? Check out RBS's
Boat Finder Tool
Simple and easy to use!
http://www.rbsbattens.com/