Kitetender 400, The ultimate dinghy!
Since march 2014 the Kitetender400 has been seriously tested. Some minor modifications like anti spray, placing footsteps have been done. The model is completely ready for glass fibre production.
Topspeed so far 21 knots ! (Podersdorf Austria, velocitek measured)
KiteTender® Concept
Kitetender is a special designed monohull for kitesailing as a result of years of testing, developing and prototyping. Technical hull design differ quite a lot from the traditional sailing boats equipped with a mast.
Traditional sailing boats have volumes beneath the waterline, designed to handle with pitching heeling momentums. Kitesailing generates only very small pitching momentum, so design had to be different.
Kitesailing is not jumping with kites, but more like course racing, with the use of the so called race kites ( North Dyno), choosing for a more stable and upwind performing kite.
Kitesailing is quite easy, but totally different from traditional sailing (with a mast, mainsail, genua etc). Take kite lessons before you start!
Notable Quotes
Yves Parlier " saw your films on the net. Bravo, precise how kitesailing should be" Shortly after Yves came to Holland (Yves Parlier beyond the sea, France)
Tom Court "I did not expect kitetender would be that fast and fun" while rocking the Solent at Cowes week UK 2014 ( Tom Court; pro kiteboarder UK Ripslix)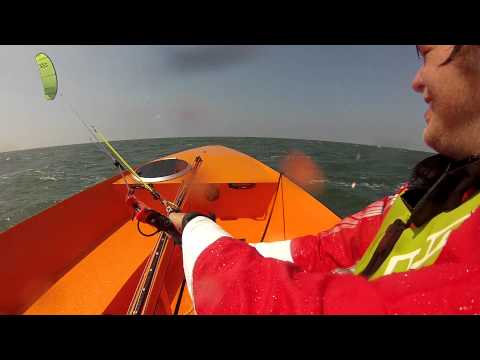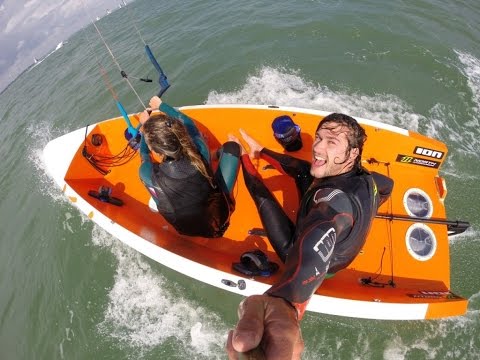 Specifications KiteTender 400™®
length 440 cm
width 132 cm
weight 75 Kg
material glass fibre vacuum built
rudder & centreboard pivoting
design Peter Schermer
Price Kitetender 400 standard is €4750,-. excluding VAT (Europe, ex works Holland)
Safety systems KiteTender 400:
closed hull, open transom, self draining cockpit
pivoting rudder and centreboard with auto release for easy landings on beaches
KiteTender 400 can be used with the standard safety-leash and safety systems of your kite
In case of a problem, deflate your kite and take the paddles out and row home
Kite know how is essentiel! Take lessons before you try
http://www.kitetender.nl/