Rio 100's debut race highlighted by Live Sail Die. She'll be in the Sydney Hobart before coming to the West Coast to do the Cabo Race and then the Transpac....
Friday was the first real test for the recently launched Rio 100 in race conditions when she and a crew of 28 took part in the Royal Akarana Yacht Clubs 'Yates Cup'. A 230nm race which sent the fleet of 17 boats exploring the outer gulf around Curvier Island, the outside of Great Barrier and as far north as the Poor Knights before turning around and coming back into Auckland.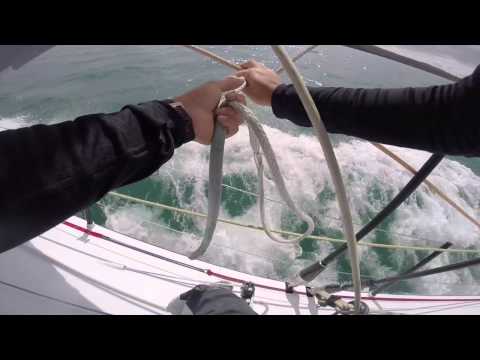 Owner Manouch Moshayedi assembled a cracking team of American sailors (who would become regulars once the boat was back in California) and a few Kiwi ring-ins to fill some spots. Most notebaly, 2 times America's Cup winner Peter Isler (USA) was on board as Navigator with local boy Mike 'Moose' Sanderson (NZL) as tactician.

LSD was asked to be on board for the race to capture the action and it was Buoy who was lucky enough to get the ride. Daz was already on Beau Geste and Lissa was the eye in the sky buzzing the fleet with Phil Hart in his Ultralite. (Aussie was a little annoyed…)

The race started at 10am Friday morning outside the Royal Akarana Yacht Club in a light nor-wester and warm conditions.
READ ON