Nauti-Craft Marine Suspension Technology
The Nauti-Craft technology is a hydraulic suspension system for multihulled vessels. The system separates the hulls from the superstructure which allows the hulls to react rapidly to wave inputs and conform to the ocean surface without transmitting high forces and accelerations of the hulls to the deck and superstructure. This provides increased levels of ride comfort, control and stability whether stationary or travelling at speed. The improvements to stability and maintaining a level attitude can be further enhanced with active control of the suspension system. This has great potential applications for commercial, military and recreational vessels.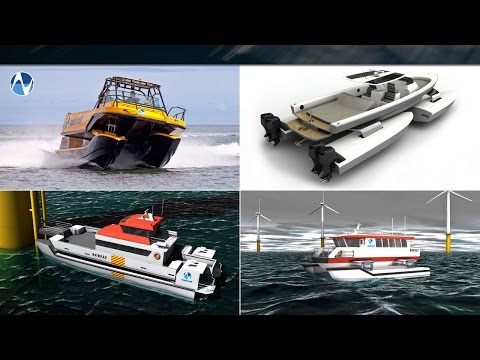 The need for marine suspension.
• Reduced slamming and jarring motions
•Improves comfort and safety.
• Reduced roll and pitch motions.
•Reduces sea sickness.
• Improved planing speed in rougher conditions
•Improves speed and efficiency.
• Cost Versus Performance
•Allows a smaller vessel to provide seakeeping typically only found in larger vessels while having the lower operating costs of a smaller vessel.