"THE WORLD'S MOST BEAUTIFUL amphibious boat, the curves and details of this premium boat have been designed by
the most talented designers and engineers at our design studio to be in line with the elegance and perfection of the
most demanding. Behind this stunning design you will find all new aspects of comfort, technology, performance and sensation:
Impeccably tailored, crafted to reward your every sense. Gold or platinum and leather trim in abundance and harmony. The result is the Iguana Yachts EXCLUSIVE."
"Strong and reliable, the powertrain architecture is developed specifically by Iguana Yachts to be both efficient and extremely
resistant without sacrificing the performance of the boat nor the comfort."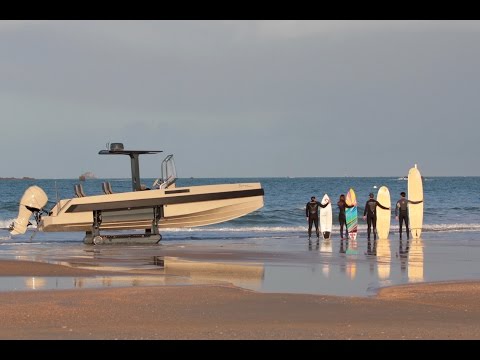 Detailed Specs (Clicky)
SPECIFICATIONS : IGUANA 29
Overall Length 9,25 m
Beam 2,74 m
Weight 2 900 kg
Overall height 2,75 m
Maximum payload 800 kg
Capacity 8 persons
Maximum speed 40 kts
Integral fuel tank 300 l
Maximum ground speed 7 km/h
http://www.iguana-yachts.com/
History