Crew watching
Just "flip the switch" and watch as all systems turn green. Monitor the battery and signal strength in real time. You will be able to tell if anything is wrong at a glance.
Every second, the phone checks if the beacon is not in the water and if the connection is not lost.
Automatic alarm
If an activated beacon detects water or loses its signal, the app will automatically sound an alarm within three seconds, clearly stating what happened;
"Man overboard".
The alarm gets increasingly pressing with time, even if your phone is set to silent mode. In the confirmation screen you are presented with the three most urgent actions as a reminder.
Aside from the alarm, your phone or tablet will vibrate and flash its camera strobe light. If you confirm, the alarm you will be guided along the rescue procedure.
Using the thoroughly tested MOB compass,
CrewWatcher visually guides you back to the point of loss, requiring zero input while remaining portable. The MOB icon always moves relative to your boat. You just steer, get it dead ahead and watch it turn green.
Once at the point of loss, CrewWatcher will show your position within the estimated search radius along with the track you've covered.
Simultaneously it scans for the beacon's homing signal. Once the signal is found, a real time position is automatically calculated.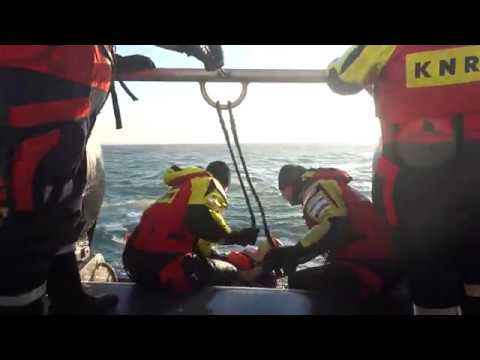 https://crewwatcher.com/