Project 400 was drawn by Dykstra Naval Architects (naval architecture/exterior design) and Mark Whitely (exterior and interior design). The 81m aluminum hull has space for 12 guests including owners and a crew of 13. Although it is an impressive project, the yacht will have a Panamax height (and a carbon rig by Rondal).
Furthermore, the yacht is the largest to date by Royal Huisman by volume (Athena is the longest with 90m including bowsprit – hull has a length of 79.25 m). This new one is also the largest full-aluminum sailing yacht in the world to date. Delivery is scheduled for 2020.
VIDEO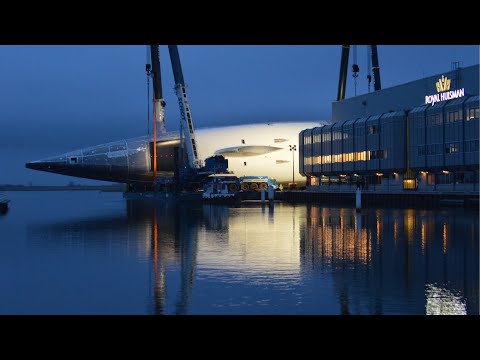 Royal Huisman turns its largest hull everUpon her delivery in 2020 this 81m / 266ft contemporary schooner will be the world's largest aluminium sailing yacht.
Royal Huisman Project 400, exterior styling: Dykstra Naval Architects and Mark Whiteley Design, naval Architecture: Dykstra Naval Architects, interior Design: Mark Whiteley Design, builder: Royal Huisman, year of delivery: 2020.
Length over all: 81.00 m
Exterior Design: Dykstra Naval Architects / Mark Whitely
Interior Design: Mark Whitely
Naval Architecture: Dykstra Naval Architects
Material: Aluminum
Guests: 12
Crew: 13
Classification: Lloyds MCA (LY-3)
Year of Delivery: 2020
Mast & Booms: Rondal