Founded by Alain Thebault of Hydroptere fame and former windsurfing world champion Anders Bringdal, the futuristic
Sea Bubbles Water Taxi has reached the next level in development and has secured funding to make the dream a reality,
the are currently testing and demonstrating in Geneva.
OUR VISION
We believe that pollution and global gridlock are not only threatening our welfare, but are ultimately threatening people's freedom of mobility.
Because in 2050, there will be 4 billion cars in the streets, and even if they are all powered by clean energies, it will still create a massive traffic jam. We believe that the future of mobility will rise from the water, a natural, historic path in the cities that has been underrated for a long time.
THE BUBBLE
100% electric, the Bubble is autonomous during its rides and is charging while people are getting in and out, while stationed at the Dock.
People can enter from the side door, with the help of a hostess, and take their seats into the Bubble.
Once the doors are closed and the Bubble secured, it will get out of the Dock and start moving.
When reaching 12 km/h (7.5 mph), the Bubble will start flying above the water, preventing from any seasickness, sudden movements or waves rolling.
Once the ride is over, the bubble slowly comes back to the water level to reach the Dock, letting its passengers out and waiting until the next ones are ready to board.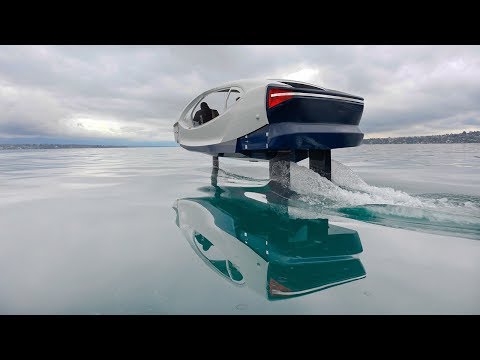 http://www.seabubbles.com