Young Shanee Stopnitzky is a young Marine Scientist that recently made the news.
Not for some remarkable invertebrate or pelagic creature she discovered. It was the theft of her yellow submarine, she calls Fangtooth.
http://www.seasky.org/deep-sea/fangtooth.html
It seems somebody went joyriding in her submarine over the full moon weekend, while it was tied to the dock at the Berkeley
launch ramp, while it's trailer was being repaired and she was out of town. It was reported to authorities as a plane that had crashed in water,
was recovered and towed to the launch ramp in Emeryville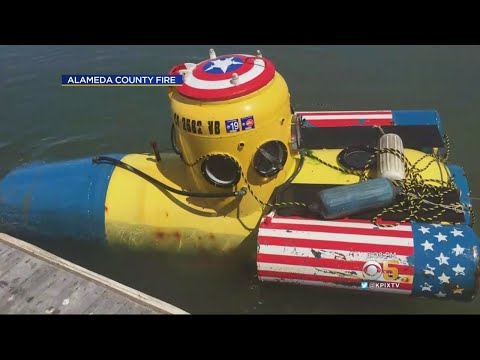 Shawnee 1st got excited about submersibles on a trip to Honduras where she helped work on a docking station for a commercial
tourist submersible. The operator took her down to about to 2,000 feet "The experience changed my life and I was hooked on the possibilities"
Says Shawnee.
Shawnee in the Honduran Sub Above and Fangtooth on its trailer below
Shanee would locate her submersible in Michigan where it was being used in the clear waters of Lake Michigan. Its was reasonably priced,
and needed some work, but was fully functional. In order to help raise money for the needed repairs, she started this funding site:
Click HERE
But over the weekend joyride by a mysterious adventure seeker the poor sub is going to need additional fixes and get bailed out of the impound yard
in Oakland. If you would like to donate, please check out the new gofundme account at
https://www.gofundme.com/subrescue
.
The end goal is make the submarine functional to go deeper and become a community shared submarine, via the
Community Submersibles Project
. This two person sub at present will only to 30' due to the glass window in the bow, which they intend on replacing with a clear dome, that with replaced seals on the hatch should enable the sub to go to depths of 150 to 500 feet. The end of May is the target date.
As a community sub, anyone can join and go on dives, which will last about 1/2 hour in most cases. Destinations such as Monterey Bay and Lake Tahoe are envisioned.
You can join the project by going
HERE!
MORE PICS!