A Frenchman has set off to cross the Atlantic Ocean in a barrel-shaped orange capsule, using ocean currents alone to propel him.
Jean-Jacques Savin, 71, left El Hierro in Spain's Canary Islands and hopes to reach the Caribbean in as little as three months.
His reinforced capsule contains a sleeping bunk, kitchen and storage.

He will drop markers along the way to help oceanographers study Atlantic currents.
Updates on the journey are being posted on a Facebook page and the latest message said the barrel was "behaving well".

In a telephone interview with AFP news agency, he said: "The weather is great. I've got a swell of one metre (3ft) and I'm moving at 2-3km/h... I've got favourable winds forecast until Sunday."

Mr Savin is a former military paratrooper and has also worked as a park ranger and a pilot.
He believes ocean currents alone will carry his resin-coated plywood vessel about 4,500km (2,800 miles) to the Caribbean.
The barrel is 3m long and 2.10m wide with six square metres of living space. There is a porthole in the floor through which Mr Savin can watch passing fish.

The capsule has been built to resist waves and potential attacks by orca whales. A solar panel generates power for communications and GPS positioning.
His budget of €60,000 (£54,000; $68,000) was largely raised through crowdfunding.

"Maybe Barbados, although I would really like it to be a French island like Martinique or Guadeloupe," he joked.
"That would be easier for the paperwork and for bringing the barrel back."

BBC Report
Jean-Jacques Savin, experienced navigator, has long sailed on the waves. After four crossings of the Atlantic Ocean sailing, he decided to sail on a totally new boat!
This 71-year-old man had a very unusual professional career: military paratrooper, private pilot or conservator of the National Park of Central Africa, are some examples of trades he was able to exercise.
And Jean-Jacques is not at his first challenge! His four swimming across the Bay of Arcachon and his ascent of Mont Blanc in 2015 attest to his irreproachable physical form. In 2017, he will be in second place in the French Triathlon Championship, 15 years after being vice-champion of Europe, and 7th at the world championships, in this same discipline. Various performances in nautical competition are also part of his record.
Jean-Jacques will board in January 2019 aboard an epoxy plywood barrel with the intention of drifting with the winds and currents, from the Canary Islands to the Caribbean.
His journey will last between 2 months and a half and 3 months.
This crossing will be the subject of several scientific researches:
• DSEM and JCOMMOPS will be associated for marine scientific research.
• Drs. Laporte and Larminaux from the Wallerstein Medical Center in Arès will join the project for various studies on the individual (loneliness, restricted cockpit behavior, impact of permanent movement and very slow movement, adding to this the factor of long duration).
The cabin is made of polyester to withstand possible shocks, as well as breakers. It has four portholes: one on each side and one under the hull. A hatch opening and surmounted by a bubble (diameter of 60cm) is placed on the top. A weighted keel balances the whole. Once completed, it will be transported to the Canaries in a 20-foot container. At the end of the crossing, the barrel will be repatriated on Ares.
Length: 3m • Widths diameters: 2.10m and 1.70m to the faces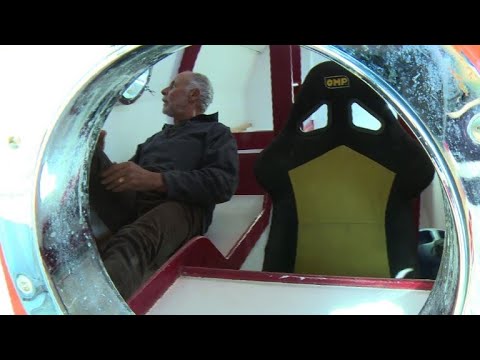 EQUIPMENT
Security:
• Irridium GO
• Tablet with GPS with waterproof protection
• Weather 4d weather software for tablet
• Mapping
• Portable
VHF • VHF and AIS simple (transmitter / receiver)
• An antenna common to both with a duplexer
• A spot tag 3 Globastar for follow me on the internet
• Personal beacon and Beacon
• A raft approved for 4 persons
• A rocket box
• A floating anchor
• A fire extinguisher
• A lifejacket?
• A bilge pump
Technical:
• Two drones: bad weather - normal weather
• Two go pros: one outside - one inside
• GPS card reader
• Antenna support accessory?
• Barometer, watch, compass
• Two 80-gel gel batteries
• Two 100-w solar panels
• Coupler
• Ampere controller
• Projector
• Manual watermaker
• Two aerators
Other:
• Sink • Valves • Inner foam insulation • Jerricans
• Stove • Gas cylinders • Freeze-dried food
• Shackles, swivels, ropes, tools, etc ...
https://share.findmespot.com/shared/...g0OVsvDW7rDQPa
http://www.atlantique-tonneau.com/