Fresh for Paris 2024, the Nacra 17 fleet will debut two upgrades to the rudder system in Palma 2022.
Following the Tokyo Olympics, an updated elevator and an adjustable rudder rake system were approved by class membership for onward use. Heading toward Palma 2022, teams competing will now be using these updated systems.
The updated elevator is much the same as before but has been modified to provide a safer profile to the fleet. It is slightly asymmetric, reducing the amount it projects outward of the boat. Most critically, the leading edge and end profiles are blunter than before, and the torpedo central section has also been blunted. This is to reduce the likelihood of serious cut injuries should a sailor come in contact with the elevator after falling overboard.
The second change is the adoption of an adjustable rudder rake system that allows teams to tune their rudder rakes during racing, while in the past adjustments were only possible in between races. The system also allows for differential adjustment, so the rakes of the windward and leeward rudders can be set independently.
The performances of the Nacra 17 will be impacted in a number of ways by having adjustable rudder rakes. Firstly teams will be able to optimally set up their boats for upwind and downwind sailing, instead of adopting a compromised setting for both directions. This should allow teams to stay foiling more often downwind, and with a greater margin of comfort than has been previously available to them. It also allows for upwind foiling to become a more realistic mode of choice for teams while racing. Not only can teams generate more lift for takeoff, but they can also increase the downforce to windward (and or reduce lift to windward) to better handle the higher apparent windspeeds that accompany upwind foiling.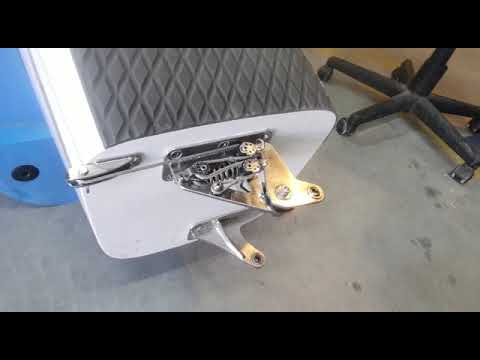 The updated system is bolted on, meaning all existing boats can be retrofitted to stay current, as is the updated elevator, which is a requirement to compete.