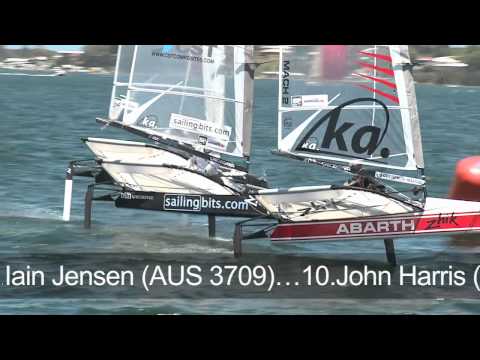 Day 1 Highlights
Charlie McKee (USA) rocks the Wing-sail upwind
It was a hot first day for the 2011 Zhik Moth Worlds with enough Easterly for "Light-air Flyer" Joe Turner (AUS) to turn out a record of 2, 1, 1 and win the day. Aussies make up 4 out of the top 5 after day 1 with Nathan Outteridge in 2nd, Rob Gough with 3rd, and Scott Babbage in 5th. Kiwi Peter Burling cracks in with 4th. But it wasn't just the "young blokes" leading around the track, there was plenty of – experience – and international flavour breaching the top 10 around the tracks.
Swiss cousins Mikis and Arnaud Psarofaghis (try saying that 10 times fast), both had excellent days, Arnaud pumping out 3 top 10 finishes and Mikis a few in the top 15. Hero moves of the day go to Nathan Outteridge and Bora Gulari who in the last race were dead off the line, rounded the windward mark in 20th and 21st, and both fought their way back to a top 10 finish.
"So this is what it feels like to fly" reports Charlie McKee (USA), the Wing-sail guinea pig. The Wing-sail made a stunning debut after having a tough time at the Nationals and a full-blown smash-up during a practice session on the lay-day. "I've never piloted a glider," McKee said, "But this is what I imagine how it would feel." McKee had an excellent beat, winning the first leg of the 2nd race and managed to hold on to a 5th.
Even top sailors get a few butterflies (moths?) in the stomach at World Championships. Brad Funk (USA) started off the day sailing the wrong race in the split fleet starts, who is "pretty glad" it's a long series. Byrne Lochlin (AUS) might have forgotten to put his bung in, and might have had to raft up on the American support boat to drain his hull…
Some of the followers on Facebook couldn't believe the live updates: "Old Man Rast beat the young guns?" Sailors all born before 19__, such as Chris Rast (USA), Charlie McKee (USA), Peder Arvefors (SWE) and 3rd over-all Rob Gough all tasted the top 10.
Arvefors, like Rast and McKee, came to the Moth from a strong background in 49ers, as well as some i14s and ice sailing. He's here with his wife and four kids, "and I think there's a few cousins too", proving that you can foil, get top 10 finishes, and have your family, too. He currently sits in 27th overall.
Top Ten for the day:
1 – Joe Turner (AUS) —- 4
2 – Nathan Outteridge (AUS) —- 7
3 – Rob Gough (AUS) —- 7
4 – Peter Burling (NZL) —- 7
5 – Scott Babbage (AUS) — 10
6 – Arnaud Psarofaghis (SUI) —- 14
7 – Tom Slingsby (AUS) —- 14
8 – Matt Crockett (AUS) —- 15
9 – Iain Jensen (AUS) —- 17
10 – John Harris (AUS) —- 19
Day 1 preliminary results