Aussies Joe Turner and John Harris mix it up at the 2012 Moth Worlds at Lake Garda Italy
all images ©
Thierry Martinez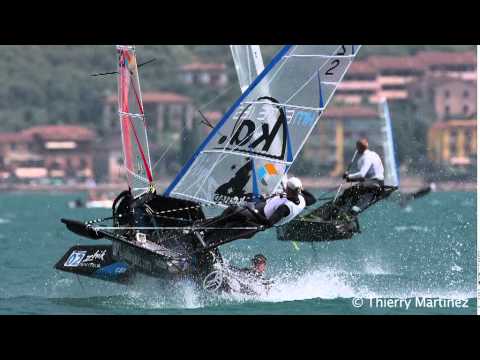 USA Sailor Brad Funk offers this report:
The north wind died very early today and south wind filled in early with great development ranging 14 to 18 knots. The US guys had a pow-wow before the race because we knew we had mojo for the strong breeze.
The gold fleet raced the inner loop first. Surprisingly, the start of the first race had the boat end favored on starboard which was uncommon for Campione. I made a conservative start and headed for the wall. Next, I tacked and could almost lay the windward mark. But not quite so had to make two more foiling tacks and rounded around 10th. I passed a few boats up second beat and coming down last run Bora was nipping at my heels five lengths back. We were both going close to 25 knots, with little gusts to play our apparent wind for speed or height for best VMG. His boat looked dialed. I said, "I better find a better mode in the chop or he'll catch me". We came to starboard layline and gybed simultaniously. He had a slightly better one and got me by two feet at the line for 6th and 7th I believe.
For the second race, started below the pack at the boat above Scott Babbage who is currently winning Worlds. I was holding speed and height on him; he tacked out for the wall. I got more pressure and rode it for one more minute then tacked. Wall came out better and Scott was winning. Should have gone with him!
On the run Erik Haukus and George Peet were right behind me which was amazing, to see four USA guys in the top 7 in a race. One more lap with everyone holding positions and we were all stoked to have performed so well.
Then last race, pin end was slightly favored but most choose the boat end. I nailed the start at the pin end, adjusted my rod height for more lift and hiked hard. I just crossed the whole starboard tackers from the boat and I was going the way I wanted to go, which was, of course, to the wall. Tacked just off the convergence zone which causes auto tacks if you get too close. Rode starboard with pressure all the way to the port layline and tacked. Four boats got a little inside wall lift and rounded ahead. Kept it safe for lap two and finished 4th. Pretty stoked about that race.
Finished on a strong note today and my energy is back up. I kicked the infections out and I'm ready to go tomorrow. Had a Red Dragon pizza for dinner. Here we go, over and out Earthlings.
Brad Funk's Blog
http://www.mothworlds.org/campione/