Story From FP courtesy NorCal Sailing and Lyons Imaging:
Who will be Vencedore this year? That was the big question in Saturday's fifty-seventh running of the Bullship, the classic El Toro stampede across the Slot from Sausalito to San Francisco. As the boats left the dock at Sausalito Yacht Club to sail to the starting line off the Horizons restaurant, all looked calm, a little too calm for the 0900 start, as the wind was fickle and light. At the loud ten-minute gun before the start (good morning Sausalito!) a wind line quickly formed to the south, finally reaching the start line with perfect timing. And they were off, with the race to be sorted out in the first quarter mile.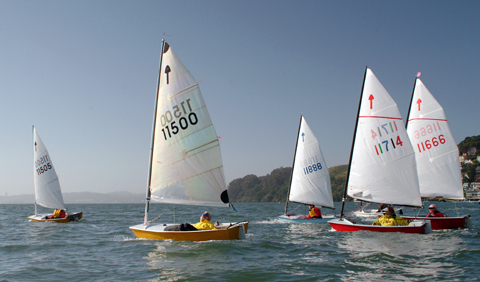 Some starboard-tack El Toros head out for the Slot. ©2010 norcalsailing.com
The majority of the fleet went right in the shifts while a breakout group went to the left. The leader of the left was Max Fraser, who made the bold move right off the line. He maintained the lead all the way into the Slot. The race across the Slot was a reaching drag race, and, as the boats stretched out the leaders were already heading for the finish less than an hour after the start.
And this year's winner of the coveted Perpetual BS Race Trophy is the young Max Fraser.
Be sure to watch our time-lapse video of the race at
http://www.norcalsailing.com/movies.html
. To learn more, see
http://www.eltoroyra.org
.