The 64th JJ Giltinan 18ft Skiff Championship is shaping up as one of the closest contests for several years with 31 of the world's best teams lining up on Sydney Harbour for the 2013 title.
Defending champion Gotta Love It 7 team of Seve Jarvin, Scott Babbage and Peter Harris had a stressful week waiting for the outcome of repairs being made to their badly damaged hull last Sunday.
Despite the concern and the uncertainty, Gotta Love It 7's recent victory in the Australian Championship has the team installed as favourite to retain the title.
With former Giltinan champions Michael Coxon (Thurlow Fisher Lawyers), John Winning (Yandoo) and Howie Hamlin (CST Composites) in the 2013 fleet there is certain to be plenty of challengers to Jarvin's crown.
Australia's team is a strong one as usual, but New Zealand and UK both have teams capable of winning the championship.
New Zealand's Alex Vallings (C-Tech) has won the Mark Foy Trophy and San Francisco International Regatta in the past twelve months and has 2012 Olympic Silver Medalist Peter Burling in his crew for the series.
The UK will have their best chance of victory since Rob Greenhalgh won in 2004.
Jamie Mears (Pica) and Jarrod Simpson (The Black Dog) are both strong contenders with strong crews.
Two local teams which were winners during the recent Australian Championship, Coopers-Rag & Famish Hotel (Jack Macartney) and Smeg (Nick Press), are both particularly experienced outfits capable of handling the stronger winds, and are capable of championship victory.
Competition throughout the fleet has never been stronger with national and international champions, Olympic gold medalists, wing masts and for the first time all-girl crew competing in the world's most sought after title.
The teams expected to line up (pending late replacements) are:
Gotta Love It 7 (Australia) Seve Jarvin, Scott Babbage, Peter Harris
Thurlow Fisher Lawyers (Australia) Michael Coxon, Dave O'Connor, Trent Barnabas
Appliancesonline.com.au (Australia) Micah Lane, Paul Montague, Tom Anderson
Smeg (Australia) Nick Press, Dan Phillips, Dave Ewings
Yandoo (Australia) John Winning, Andrew Hay, Jim Beck
C-Tech (New Zealand) Alex Vallings, Josh McCormack, Peter Burling
CST Composites (USA) Howie Hamlin, Matt McKinlay, Dave Gibson
Pica (UK) James Mears, Stewart Mears, Tristan Hutt
Coopers-Rag & Famish Hotel (Australia) Jack Macartney, David Witt, Mark Kennedy
Mojo Wine (Australia) James Dorron, Ricky Bridges, Mike McKensey
Pure Blonde (Australia) Tom Clout, Matthew Wark, Rob Bell
The Black Dog (UK) Jarrod Simpson, Euan McNicol, Geoff Bauchop
Asko Appliances (Australia) Marcus Ashley-Jones, Ash Rooklyn, Jeronimo Harrison
The Kitchen Maker (Australia) Malcolm Page, Darren McKavanagh, Cameron McDonald
De'Longhi-Rabbitohs (Australia) Simon Nearn, Keegan York, James Smithers
Winning Appliances (Australia) Shane Smith, Jake Restall, Shane Dickson
Yamaha (New Zealand) David McDiarmid, Andrew Archibald, Mark Overington
Fisher & Paykel (Australia) Andrew Chapman, Tim Baraclough, Ewan Duckworth
Lumix (Australia) Jonathan Whitty, James Hozack, Aron Everett
Rabbitohs-Kenwood (Australia) Brett Van Munster, Kieryn Cowan, Joel Castle
Haier Appliances (Australia) Pedro Vozone, Sam Ellis, James Slee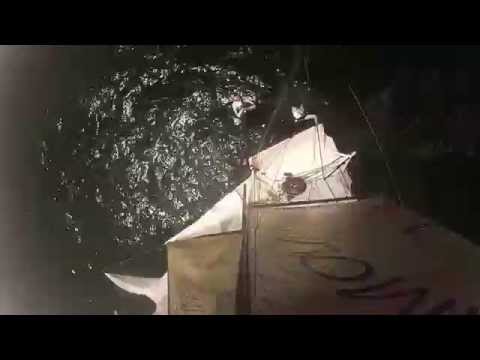 Lomax Financial Group (Australia) Alexandra South, Lizzi Rountree, Saskia Tidey
Team Daly (Australia) Nick Daly, John Walton, Peter Nicholson
Southern Cross (Australia) Oliver Hartas, Brad Greenrod, Olly Jones
Maersk Line (New Zealand) Graham Catley, Chris Dawson, Brad Collins
Brisbane 18 Footers (Australia) Daniel Jack, Tristan Hamilton, Barry Flanagan
Southern Engineering Services (US) Katie Love, Christine Neville, C.C. Childers
ASCC (New Zealand) Murray England, Rowan Swanson, Matt Randell
Events Clothing (New Zealand) Riley Dean, John Little, Scott Randell
Bridge Marina Travelift (New Zealand) Kez Cameron, Adrian France, Stephen Jones
Yamaha 2 (New Zealand) Sam Marshall, Tom Peet, Ben Gladwell
Races 1 and 6 (Saturdays 16 and 23 February) start at 4pm while all other races start at 3pm.
Races 2, 3, 4, 5 and 7 will be sailed on 17, 19, 20, 21 and 24 February.
Live Tracking:
http://www.tractrac.com/index.php?page=eventpage&id=274
Video Coverage and 'Pick-the-Podium':
www.jj18footerstv.com
For all official race results, race reports and photographs:
www.18footers.com.au
Frank Quealey
Australian 18 Footers League
www.18footers.com.au