FLETCHER-SCOTT POSTS 1-1 TO TAKE OVERALL LEAD AT MS AMLIN INTERNATIONAL MOTH REGATTA
British Olympian survives battles with countrymen on day punctuated by wild weather
HAMILTON, Bermuda — Dylan Fletcher-Scott, England's representative in the 49er Class at last summer's Rio Olympics, grabbed the overall lead at the MS Amlin International Moth Regatta today after posting a pair of first-place finishes in the regatta hosted by Royal Bermuda Yacht Club.
Fletcher-Scott, who placed 6th in the 49er Class, holds the overall lead with the low score of 13 points. "It was wicked fun. I'm really happy to come away with two bullets and to be going faster than yesterday," said the 28-year-old who placed 7-4 in the first two races. "I'm keeping it clean and sailing smart."
all imagesd © Beau Outteridge
Fletcher-Scott holds a 2-point lead over Rob Greenhalgh, who last year won this event hosted by the Royal Bermuda Yacht Club. Greenhalgh placed 8-3 today to go with yesterday's 3-1. "He (Fletcher-Scott) was going well today," said Greenhalgh. "But there's a lot of racing to do."
With four races complete out of a possible nine, the weather has been the biggest topic of discussion. Today began with a two-hour postponement as Principal Race Officer David Campbell-James waited for the wind strength to soften a bit. Recordings from the racecourse were showing the wind between 20 and 25 knots.
But when the decision finally came to send the fleet to the racecourse, a squall line moved in that bumped the wind up towards 30 knots.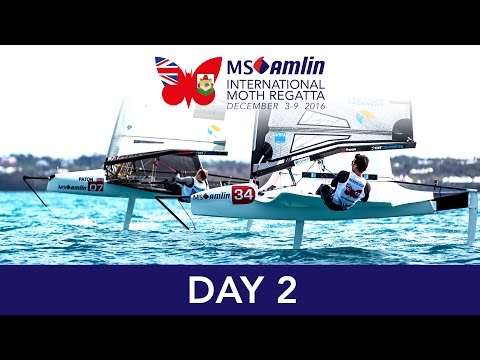 "When we first started sailing it was full on, proper top-end conditions. At least 25 knots," said Richard Mason of the U.K. who holds 37th overall. "But by the time we got to the windward mark a lot of people were low riding (off the foils). I was thinking, 'Hang on a minute, what's going on here?' The wind just dropped out completely."
Mason finished 15th in today's first race but didn't compete in the second because of a broken push rod that controls the flap on the t-foil on his daggerboard. "I was approaching the finish line and then crashed. These boats are too tricky sometimes."
Italian Stefano Rizzi, who holds 6th overall with 28 points, found the conditions right at the top end if not over for the lightweight, hydrofoiling dinghy.
"When I got out there it was very windy. It must've been 30 knots," Rizzi said in his Italian accent. "I came around the jury boat and started sailing upwind, but couldn't turn downwind. Every time I tried I crashed. One moment was very scary when I got washed off the back of the wing and the boat spun around. The rudder just missed my face."
The trailing edges of the vertical foils on the Moth are very sharp. "It could've been a bad situation," said Rizzi. "But then the wind softened and I enjoyed the second race very much."
Fletcher-Scott enjoyed the second race, too.
"It was really close between me, Greenhalgh and Goody," said Fletcher-Scott. "I don't think there's any difference between us speed-wise. We were all going very similar. Sometimes one of us was faster than others. I was just able to edge out a bit more, had little nicer starts and kept my nose ahead the whole way round."
Fletcher-Scott is sailing a Rocket-built Moth from Aardvark Technologies in the U.K. His boat is different from the others in the fleet in that it has solid wings instead of a carbon frame with a wing mat. Rocket calls it a "solid state deck" and says the benefits are "improved aerodynamics from smoother shapes, more righting moment from higher wings and improved ergonomics."
Fletcher-Scott said he's testing a new sail from Lennon Sails. "It seems to be working nicely," he said. "But we've only done four races so there's a long way to go."
After the completion of the next race, Race 5 in the series, each competitor will be allowed to discard their worst finish. That could bring Paul Goodison of the U.K. into the mix. Goodison, the reigning Moth World Champion, has a trio of 2nd place finishes along with a DNC, which counts for 52 points. He was forced to miss yesterday's second race when Artemis Racing, a challenger for the 35th America's Cup, went practicing.
Racing tomorrow looks like it could be postponed. The weather forecast is calling for southwesterly winds 20 to 30 knots with gusts to 45 knots with the chance for showers and thunder in the morning.
MS Amlin is a leading insurer and reinsurer, part of the global top-10 insurance group MS&AD, with operations in the Lloyd's, UK, Continental European and Bermudian markets. With a 300-year record and more than 2,000 people in 26 locations worldwide, we deliver continuity for businesses facing the most complex and demanding risks. Our role places us at the forefront of the Property & Casualty, Marine & Aviation and Reinsurance markets. Additional sponsors include the Bermuda Tourism Authority, Gosling's, the Official Rum of the Regatta, and Kaenon Polarized.
MS AMLIN INTERNATIONAL MOTH REGATTA PROVISIONAL STANDINGS
1. Dylan Fletcher-Scott (GBR) 7-4-1-1 – 13 points
2. Rob Greenhalgh (GBR) 3-1-8-3 – 15
3. Rory Fitzpatrick (IRL) 1-2-13-8 – 24
4. David Hivey (GBR) 13-6-3-4 – 26
5. James McMillan (GBR) 6-7-9-5 – 27
6. Stefano Rizzi (ITA) 4-5-5-14 – 9
7. John Clifton (GBR) 12-8-6-10 – 36
8. Jonathan Heathcote (GBR) 5-11-12-9 – 37
9. Simon Hiscocks (GBR) 9-9-10-12 – 40
10. Dan Ward (GBR) 8-13-19-13 – 21
http://bermudamoths.com/news/25-flet...s-overall-lead
******************************************
WEDNESDAY'S SCHEDULED POSTPONED IN BERMUDA
Today's scheduled races at the MS Amlin International Moth Regatta hosted by the Royal Bermuda Yacht Club have been postponed due to strong winds on Great Sound.
"We're seeing wind readings between 22 and 26 knots," said Principal Race Officer David Campbell-James. "The forecast I have calls for gusts to 40 knots this morning before backing off to 30 knots this afternoon. So we've made the unfortunate decision to postpone today's schedule."
Tomorrow's forecast calls for a moderate 12 to 18 knots from the west/northwest and Campbell-James hopes to run four races. "I really want to get 10 races in for the series," said Campbell-James. "That would give everyone two discards. If we can get four in tomorrow and two on Friday, then we'll be at 10 for the series."
After four races Dylan Fletcher-Scott of the U.K. holds the overall lead with the low score of 13 points. Defending champion Rob Greenhalgh is second with 15 points and Ireland's Rory Fitzpatrick, the Day 1 leader, is third with 24 points.
Racing is set to resume tomorrow with the first start scheduled for 1030 hours.