Over 500 sailors from 52 nations opened their quest for World Cup honours, personal best performances and bragging rights as the second event of the 2017 series got underway in Hyères, France.
In a stable 8-11 knot south easterly breeze, it was vital that those aiming for the top honours laid down a marker with consistent race results. Events can not be won on the first day in sailing but they can certainly be lost.
In the 38 strong Women's Windsurfer fleet, Israel's Noga Geller came out flying with superb starts and speed. Feeling comfortable in the conditions, she snapped up the first two race wins. "It was between 10-12 knots and good for planing downwind. The conditions were just like home for me so these are my favourite conditions," Geller explained on her secret to success.
"I was a bit nervous before but winning the first race is always nice and then winning the second was great."
Having won the first two races in the RS:X fleet, Geller was aiming for a perfect day but a bad start in the third bout of the day meant she was unable to assert herself as she had been doing.
Geller finished in 22nd place, quite the comedown from her flying start. So what happened? "I didn't start well," said the Israeli, simply. "I was on the wrong side and then I couldn't catch up so it was a really average race for me.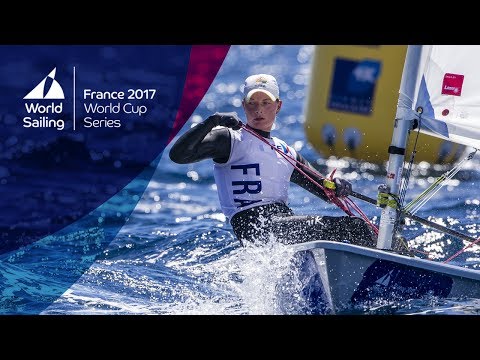 "In these conditions it's that simple. If you don't start well and you don't have a free line then you can't get your speed. It's so important to get a good start."
She concluded with a smile, "You can't have everything."
Geller discards her 22nd and leads the way on two points. Zofia Noceti-Klepacka (POL) and Veronica Fanciulli (ITA) follow. The day's other race win went the way of China's Yunxiu Lu, winner at the World Cup Series in Miami, USA.
In the Men's RS:X, Switzerland's Mateo Sanz Lanz had a wonderfully consistent day, winning two races that were sandwiched with a fourth. Like Geller, he put the key to success on the day down to a good start, "As soon as you get clean wind you can get free and choose whichever side you want," he explained. "It's the one thing that makes a huge difference to where you finish.
"I'm happy as it was a tough day of pumping all the time in gusty conditions. But I managed to start with clean wind and sailed fast."
South American sailors occupy the top two places in the 49erFX.
Rio 2016 Olympic champions Martine Grael and Kahena Kunze (BRA) lead on three points and Victoria Travascio and Maria Branz (ARG) follow on four.
The Brazilians are the ones to beat in the 49erFX having added Miami gold to their collection after Rio 2016. They got off to the best start in the 20-boat 49erFX fleet, collecting a 1-2-(4) scoreline.
Travascio and Branz were hot on the heels of the Brazilians on day one, finishing third in the opening bout and backing it up with a race win immediately after. They finished the day with a discarded 12th but are pleased to be on the tails of the Olympic champions, "It was really windy and wavy today but it was good," expressed Travascio.
"I'm happy we got off to a good start. We had two good races but then a bad third race. We went to the right when we really should have gone to the left. Overall we are happy though."
There were some mixed scorelines in the 49er pack but it's another South American contingent who lead the way. Brothers Yago and Klaus Lange from Argentina top the leaderboard on three points and World Cup Miami winners Dylan Fletcher-Scott and Stu Bithell (GBR) follow one point behind.
Pavlos Kontides (CYP) came out firing in the 60-boat Laser fleet, winning both of the days races. Good boat speed and positioning at the startline enabled Kontides to be within the leading positions at the top mark in both races. From there he was able to use his speed to take a lead at the first gate, in both races, and subsequently he dominated from there.
Watch the races back on the SAP Sailing Analytics to see how Kontides asserted himself.
Nick Thompson (GBR) and Rio 2016 Olympic Champion Tom Burton (AUS) kept Kontides in sight in both races. Thompson picked up a 3-2 and Burton a 4-5.
In the Laser Radial, Evi Van Acker (BEL) posted two strong results as she bids to defend her Hyères crown. A third and a first gives her an eight point advantage over Viktorija Andrulyte (LTU). World Cup Miami winner Vasileia Karachaliou (GRE) had a mixed day with a 35th and fourth. Sailors' worst races will be discarded after the third race so a good performance on Wednesday will propel the Greek racer up the leaderboard.
2.4 Norlin OD Paralympic Champion Damien Seguin (FRA) got off to a flyer in the 12-boat fleet. Seguin posted double bullets and has an early four-point advantage over compatriot Xavier Dagault and Italy's Antonio Squizzato.
Seguin has thrived in Hyères throughout his sailing career, winning gold six times. Winning a record seventh title will set the French racer up nicely for the upcoming Para World Sailing Championships in Kiel, Germany where he will be aiming for a fifth world title.
Moana Vaireaux and Manon Audinet (FRA) controlled the Nacra 17, picking up a (4)-1-2 scorecard to lead on three points. Lin Ea Cenholt and Christian Peter Lubeck (DEN) and defending champions Fernando Echavarri and Tara Pacheco (ESP) follow on six points.
In their first regatta together, Billy Besson, the four time Nacra 17 World Champion, and new crew Amelie Riou got off to a slow start with an 18th and 11th. By the third race, the pair were flying and took the race win.
Great Britain's Ben Cornish and France's Fabian Pic shared the race wins in the 34-boat Finn fleet. Cornish holds an early lead after he backed his race win up with a sixth and Pic sits in fourth after an 11th.
French racers Nicolas Parlier and Axel Mazella dominated their respective blue and yellow fleets in the Foiling Formula Kiteboarding. The pair won every single race, beating World Champion racers Maxime Nocher (MON) and Florian Gruber (GER) respectively.
In the 470 fleets, Rio 2016 bronze medallists Panagiotis Mantis and Pavlos Kagialis (GRE) lead the men's division and Switzerland's Linda Fahrni and Maja Siegenthaler are in control in the women's after two races each.
Racing continues on Wednesday 26 April at 11:00 local time. Live Medal Races will be shown on the World Sailing YouTube Channel on Saturday 29 and Sunday 30 April, bringing the penultimate event before the Santander Final to a close.
By Daniel Smith - World Sailing
RESULTS / ENTRIES
A full list of sailors registered to sail in Hyères is available to view here. Results will be available from Tuesday 25 April via the World Cup Series results centre
HERE!
TRACKING
Live tracking and competitor's analytics will be available via SAP Sailing Analytics throughout the event
HERE