Wright Pulls Out Gold Mead Performance In Epic Conditions
Ed Wright won his second Finn European title in Cádiz on Saturday after a spectacular medal race in high winds and huge waves that nearly resulted in the race being cancelled. Nicholas Heiner, from the Netherlands, had led all week, but several capsizes and a last place left him with the silver, while Max Salminen, from Sweden did enough to take the bronze, after placing second in the race.
The Final Race for the rest of the fleet was canceled with sustained gusts well over 30 knots and huge seas. This meant that Nils Theuninck, from Switzerland, won the U23 European title, from last year's winner, Henry Wetherell, from Britain, and Ondrej Teply, from Czech Republic in third.
The medal race started with an average wind speed of 24 knots gusting to 29. With the huge waves it was on the limit, but the Finn sailors wouldn't have it any other way. The race was on and they loved the extreme challenge of survival against the elements.
Wright got off to a great start, on top of Heiner, but Brazil's Jorge Zarif escaped at the pin end and led the fleet the entire race to cross the line with a comfortable lead. However he neglected to round the final downwind mark and was disqualified. Josh Junior, from New Zealand, and Salminen were chasing him down and Salminen just got through on the downwind to cross behind Zarif and Junior and take the bronze. Junior took the race win.
Heiner was having problems, capsizing on the downwind and again at the gate to trail the fleet by some distance. Wright kept upright and a fifth was enough to take the gold.
Heiner can look back on a successful week even though he fell at the final hurdle. "It was a really hard race today, with quite extreme conditions. I didn't really sail my own race in the end and tried to stay close to Ed. Unfortunately I had a capsize on the downwind and another at the bottom mark. I just wasn't good enough today, and we know what we need to work on. I must say I haven't sailed much in these conditions in the Finn."
"But that's no excuse. I just need to get some more pace in the breeze and make sure the boat handling is crisp."
On his second major medal in the last nine months, "Progress has been great I've not raced since last year in Balaton, so to be leading here the whole week and to have sailed so well has been really nice, and showed that we had a good summer in New Zealand. But saying that, on a day like this you just need to finish it off and unfortunately we didn't."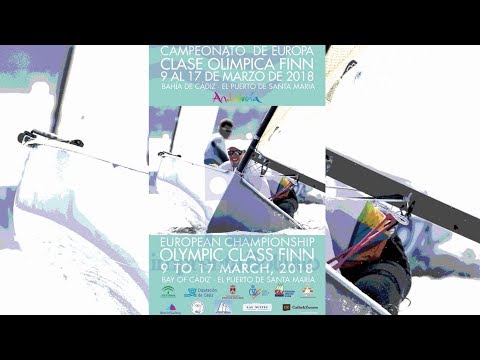 Salminen, said "It was an amazing medal race. I am really happy that we did it. It was clearly marginal conditions, but this a really cool part of our sport to be able never control, but at least, you can try to survive in these conditions. And what an amazing venue to run races from. The wind and the waves are amazing."
"It was a tight medal race as you would have expected. But I found myself around the boats that were around me in the results, so from the last lap I just tried to cover them as much as possible and get the boat safely to the finishing line."
On another medal, "For sure it's confirmation that we are doing the right thing with my training partners and my coach. And for sure you want to win championships. I think it's important to keep being on the podium, when you aim is to win a medal in 2020, you need to be there already now and for that I am happy."
On his second European title, 12 years after the first, Wright said, "It was a crazy race. I saw Heiner capsize at the five-minute so then I realised everyone was having a hard time with the conditions not just me."
"I knew I needed to nail the start which I did and immediately rolled Heiner, which was great and had good speed to extend. I tried to sail him back and still stay in contention, as I needed boats between us. I got an early gybe in on the first run and sailed the boat hard downwind and extended. By then it was a matter of keeping it upright."
"The seas were massive and very difficult, but it was awesome sailing and awesome racing. I enjoyed every second. What a race."
"I am so happy to win the title again."
The sailors now get two weeks off before continuing the battles at the Princesa Sofia Regatta in Palma at the end of the month.
Results after medal race (medal race in brackets)
1 GBR 11 Edward Wright 57 (5)
2 NED 89 Nicholas Heiner 60 (9)
3 SWE 33 Max Salminen 71 (2)
4 NZL 24 Josh Junior 73 (1)
5 USA 6 Caleb Paine 73 (3)
6 GBR 91 Ben Cornish 92 (6)
7 BRA 109 Jorge Zarif 97 (DSQ)
8 CRO 1 Josip Olujic 99 (4)
9 FRA 112 Jonathan Lobert 101 (7)
10 GRE 77 Ioannis Mitakis 110 (8)
Full Article
RESULTS!