Sailors racing at the Hempel World Cup Series Final in Marseille, France needed to use all the strength and fitness they could muster with strong winds bringing the second day to an early close.
Gusts well in excess of 30 knots were reported across the five racing areas. Only a small number of races for the sailors from 41 nations racing across the ten Olympic events and Open Kiteboarding were completed as the wind speed was deemed unsafe for competition. The Principal Race Officer brought the sailors back to the shore with proceedings cancelled at 15:00 local time.
The 49er completed a single race in a breeze that started at 20 knots and quickly rose to 25 knots with stronger gusts. Of the 14-boats in the fleet, only four of them completed the race with capsizes aplenty on the race track.
Federico and Arturo Alonso, brothers from Spain, focused on doing the simple things well on the race track and not overcomplicating their processes which resulted in them claiming the race win. They are one point off the leaders, Kévin Fischer and Yann Jauvin (FRA), who finished second in the race. The seventh placed Swiss team of Sebastien Schneiter and Lucien Cujean came through in third and Italy's Uberto Crivelli Visconti and Gianmarco Togni came through in fourth.
No other team were able to complete the race with capsizes and boat damage halting their progress.
"I think it was really close to the limit for the 49er class. You can see that in results and around the boat park," said Federico looking around at the rest of the fleet assessing their boats for any damage sustained.
"It was really difficult for us today but it is part of the game and everyone had to deal with it. We had some scary moments. It's a good, small fleet so there were no major incidents but we were on the edge at some points.
"It was quite difficult to sail in a straight line. At the leeward marks it was really choppy so it was difficult to gybe. We just tried to make things easy for ourselves and not take any risks. We didn't capsize and we managed to win the race.
"We think the gusts were close to 30 knots. They were really strong."
With such strong breeze playing out across the entire field of play, boat handling and strength was the key to success. Alonso continued, "You can see some sailors that aren't as strong or tall but they sail the boat well so that can help but you have to be strong and keep calm. If you get stressed it's easy to capsize or have contact with another boat. You have to minimalise the risks.
"You have to do everything you can to make things easy for yourself. Boat handling is crucial and it's down to the experience of the team."
The French lead on five points followed by the Spaniards on six. Crivello Visconti and Togni are third on 11 points.
The 49erFX fleet started a race but this was later abandoned due to the strong breeze.
The Open Kiteboarding fleet commenced racing at 11:00 local time and enjoyed a lighter late morning / early afternoon breeze. They completed all four races scheduled.
Nico Parlier won three of his four races and has opened up a six point lead over compatriots Theo de Ramecourt and Axel Mazella. Buenos Aires 2018 Youth Olympic Games silver medallist Toni Vodisek (SLO) is fourth overall.
The 24-boat Nacra 17 fleet also had an 11:00 start time. They benefited from the lighter breeze and were able to sail two races before the strength increased.
Italy's Vittorio Bissaro and Maelle Frascari were in firm control in the strong winds and took both race victories.
The first race of the day was sailed in a 17-19 knot breeze and the Italians got off to a good start and grabbed the lead early on. They never relinquished the lead and claimed a stylish victory. They worked their way through the field in the next race for their second consecutive bullet.
Their hard work has pushed them into first overall, overtaking Billy Besson and Marie Riou (FRA) to lead them by a single point. John Gimson and Anna Burnet (GBR) and current World Champions Ruggero Tita and Caterina Banti (ITA) remain in third and fourth.
Experienced crews in the Women's 470 shone in their single race. Afrodite Zegers and Lobke Berkhout (NED), a two-time Olympic medallist and five-time World Champion, took the victory and move up into first overall. Japanese Olympians and 2018 World Champions Ai Kondo Yoshida and Miho Yoshioka followed the Dutch team in second and occupy the silver medal position.
Hannah Mills, Rio 2016 Olympic gold medallist, and Eilidh McIntyre (GBR) are in third following a sixth place.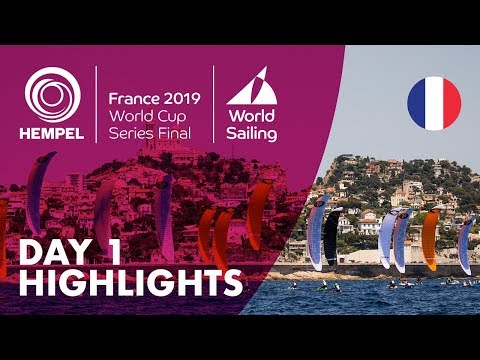 Men's 470 sailors, Mat Belcher and Will Ryan (AUS) have historically thrived in strong winds and that was no different on Wednesday. They took the sole Men's 470 race win and move into second overall. Overnight leaders Jordi Xammar and Nicolás Rodriguez (ESP) finished third in the race to retain gold medal position.
The Laser and Laser Radial fleets both completed one race apiece. Greece's Adonis Bougioris won the Laser race and is fifth overall, four points off Ryan Lo (SGP) who holds the lead. The Laser Radial race win went to Lithuania's Viktorija Andrulyte. She leads on two points following a fifth and a first from the day prior. Carolina Albano (ITA) and Yumiko Tombe (JPN) follow.
No racing was possible in the 49erFX, Finn and the Men's and Women's RSX.
Thursday's forecast is looking more favourable for the competitors and racing is scheduled to start for everyone at 11:00 local time. For those who lost races, minus the RS:X, an additional race has been added to the schedule in an attempt to catch up on those lost.
Find out how to follow the Hempel World Cup Series Final below:
EVENT WEBSITE
Click here for further information on Marseille and the Hempel World Cup Series -
http://wcsf.marseille.ffvoile.fr/
ENTRIES / RESULTS / SCHEDULE
Click here to view the entry list in full.
Results will be available here -
http://sailing.org/worldcup/results/index.php
.