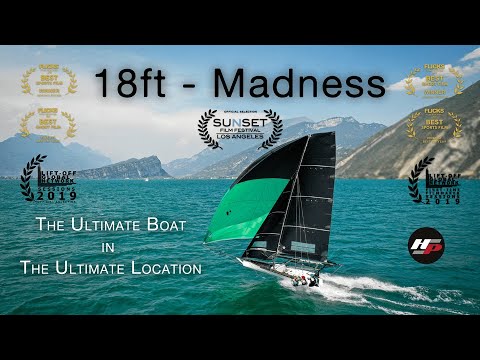 The Ultimate Boat in the Ultimate Location
The 18ft Skiff class has always been a passion for Hartas Productions, with our director, Ollie, steering and in Sydney for six consecutive seasons, helming the now famous ILVE Silver Bullet! . This led us to filming the 2018 18ft Skiff European Championships last year which turned out to be one of our most successful videos of the year!
It was only natural then that we returned this year to film the European Championships again at Circolo Vela Arco on Lake Garda. Only this time, we made a deal for a bit more creative freedom. We decided to create our most ambitious film ever. We wanted to create a documentary that captured the true spirit and essence of what it is like to sail these boats in this location.
Initially, we only planned to create a film that was between six and eight minutes in duration, but as it happens so often with 18ft Skiff's, things didn't quite turn out as planned! We ended up working on the project for months and have come out the other side with an end product that is close to half an hour and the results are better than we dared imagine!
Hartas Productions really is very proud of what we have achieved. This film has been our passion project and our Magnum Opus! It will be released at 6:00pm GMT+2 on Monday October 14th!
We pulled out all the stops for this film, with Oliver even taking his life into his own hands and jumping into the water directly in front of 18ft skiffs flying downwind at top speed, with the boats flying past him by mere centimetres, all to get the ultimate shots!