With wind limits on the edge, conditions on day one of Sail Melbourne International 2020 provided many competitors with a wild, windy and
challenging day on Port Phillip Bay. Racing started out in around 20-22 knots but with wind gusting into the high twenties as the afternoon progressed, racing was cut short after several classes reached their wind limits. All classes, but the Tasar, still managed to get one race in with only the kiteboarders as well as the windsurfers completing their race schedule.
"It's funny I've spent a lot of time here over the past decade and I've never seen a day like this racing. But that's Melbourne for you, a pretty easterly wind, super windy, up and down and big waves standing up and fun for everyone. It was a case of getting out there and trying not to make too many mistakes," Rio 2016 Olympian in the Finn class Jake Lilley said about the conditions after winning the Finn fleet race. Lilley also contested the 2019 Finn Gold Cup in Melbourne in December, where he finished fifth overall after winning the top-ten medal race on the final day of the event and also secured Australia the Finn quota spot for the Tokyo 2020 Olympic Games. With a small group of international Finn sailors staying on to make the most of Australian summer, the ten-boat fleet at Sail Melbourne is expected to see some exciting racing over the next five days. "It is great to have some international guys here, every race is like a medal race and those that aren't here are missing out," Lilley said.
"The international guys here and my training partner Lachie (Gilham) are really high calibre, so it is just great practice and to race ten really good guys every day is just like medal race. And we will practice scenarios to hold us in good stead come the middle of next year," Lilley added.
Sail Melbourne International continues the 2020 Melbourne Summer of Sailing event series and with just under 200 days until the Tokyo 2020 Olympic Games the event has attracted over 300 entries from 25 countries with many of the international sailors using the event as a warm-up for their class world championships, including the Laser, Laser Radial or RS:X world championships in February.
While for some of the internationals, who have only just arrived, the conditions were a bit a shock to the system, others quite enjoyed and thrived in them.
Korea's Tokyo 2020 RS:X representative Wonwoo Cho was one of the latter and loving the strong winds he finished second in all of the three races and leads the RS:X results board after day one.
"I like strong winds and today I finished three times second so I am leading the racing now and am very happy," Cho said, who is the first time in Melbourne."This is my first time in Melbourne and it is beautiful weather and a good place for windsurfing. I arrived ten days ago and will be going back to Korea after this competition and will return for the World Championships in Sorrento. I am in training for Tokyo and many good sailors come here for training, so it's great to be here."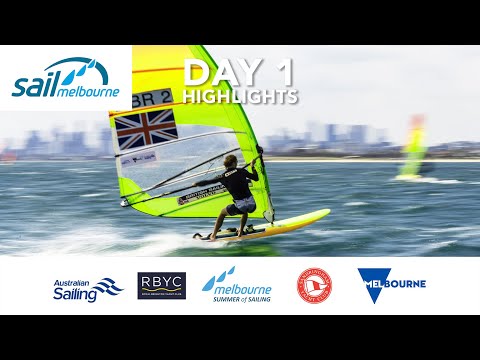 Great Britain's Tom Squires finished second and also enjoyed the conditions. "It was pretty rough, the breeze kept picking up and it was really tight on the windsurfing course. We tucked right up next the beach and the wind was shifting 30 to 40 degrees. We have been racing with the girls here so the starts have been crazy, quite a lot of people, a wild one, sick," Squires laughed. The RS:X are racing in mixed-fleet with Noy Drihan from Israel finishing as the top female after three races. The world's best RS:X are contesting Sail Melbourne ahead of their class world championships at Sorrento Sailing and Couta Boat Club at the end of February (23-29 February 2020).
The Laser Standard and Laser Radial events have also attracted a world-class field and the largest number of entries with SMI an exciting opportunity for the world's best International Laser class sailors to test the Port Phillip ahead of their class world championships at Sandringham Yacht Club in February. The fleets only managed to get one race in on day one though with Rio Olympic champion Tom Burton making the most of it and finishing second behind three-time Olympian Jean-Baptist Bernaz. "It was a pretty big day with massive waves and big winds. We only had a little bit of waiting around and it was pretty obvious that everyone was close to the limit with one race today, so we are in for a big three race day tomorrow," Burton said. The Laser Radial was won by Rio Olympic champion Marit Bouwmeester from the Netherlands with Western Australian Michael Compton following in second and top male competitor in the fleet.
Sail Melbourne includes several sub-events, with the Laser Oceania Championships, the 2020 Australian Kite Foiling Championships, the 2020 Australian Para-Sailing Championships as well as the Australian Championships in the International 505 Class all to be decided over the five-day event. In the International 505 class world champions Mike Holt and Rob Woelfel showed their class and took out the win in the only race of the day with Australians Sandy Higgins and Paul March following in second. "Uphill was just hanging on basically making sure Paul wouldn't get wiped off the trap (trapeze) which happened a couple of times and downhill it was just, throw the kite up and go for it. We just had to be a bit cautious through the jibe. Basically, it was sailing really hard and be a little bit conservative at times," Sandy Higgins said.
In the other Invited classes, Michael Leyton (ACT) took out the race win in the 2.4mR class, while South Australian Bob Schahinger won the race in the Liberty class. Racing will continue on Saturday with start times scheduled for 2 p.m. and with three races scheduled across all fleets. Saturday will also see the start of the fleet racing for the 2020 Australian Kitefoiling championships with six races on the schedule.
The kitefoilers were only recently added as a new Olympic sailing class to the Paris 2024 program and Friday saw the first ever mixed relay out of Brighton Beach to test the format that has been proposed for the Games, which involves a mixed-gender pair of kitefoilers completing a course individually in a relay style format. Townsville sibling Breianna and Scott Whitehead are two of Australia's Olympic hopefuls and really enjoyed the racing off Brighton Beach. "Today we had the first mixed relay that we've done in Australia. It's a new format, pretty fun and you add a team aspect to it and it's the proposed format for kitefoiling for the Olympic Games. Paris 2024 is all pretty new to us as it was just announced but it would be really cool to have a brother and sister team there. We've been doing kiting for a little while now and love kiting and it's definitely a possibility and a fun event to do," Breianna Whitehead said. "Coming into 2024 Olympics, I'll be 21 and my sister will be 24 and it's a really good ambition for us and a great goal, which I'm sure is achievable," Scott Whitehead added confidently. Breianna Whitehead finished fifth in the world rankings in 2019 and is also the defending national champion when fleet racing starts tomorrow. In the men's division her brother will be setting his sights on his first National title after managing a second place in the previous championships. Whitehead will be racing against a strong fleet of riders from around Australia.
See updated race schedule here:
https://cdn.revolutionise.com.au/cup...3gmsjdufpt.pdf
See all results here:
http://bit.ly/SailMelbourne2020Results
For more information about Sail Melbourne International head to
www.sailmelbourne.com.au