Giles Scott Top Dog Gdyinda
GILES SCOTT DOMINATES OPENING DAY OF FINN EUROPEANS IN GDYNIA
September 2, 2020 robertdeaves
Defending European champion, and current Olympic gold medalist, Giles Scott, from Britain, dominated the opening day of the 2020 U23, Open and Masters Finn European Championship in Gdynia Poland to lead after the first day from Henry Wetherell, from Britain, and Alejandro Muscat, from Spain. The races were won by Scott and Facundo Olezza, from Argentina. There are 70 Finns from 27 nations taking part.
The championship got off to a wet and windy start with 12-20 knots of northerly breeze, and rain. Lots and lots of rain.
After a general recall, Race 1 headed upwind into a huge rain cell with reduced visibility and challenging steering through the confused chop. After 10 months of no Finn racing, the fleet had gathered together in pretty miserable conditions, but the smiles on everyone's faces said enough. They were just happy to be racing again. And of course the racing was as fierce as ever. That hadn't changed.
Giles Scott ran away with the first race, leading at every mark and extending away from the fleet for a huge victory. He was followed by teammate Wetherell, who held off strong challenges from behind. Canada's Tom Ramshaw eventually took third place.
The wind had dropped slightly for Race 2, but more rain showers came through, and towards the end of the race the wind was down to five knots at times. Estonia's Deniss Karpak got a great start at the boat end and tacked off towards an approaching rain cloud. He was largely by himself but it paid off and he rounded just ahead of Scott and Spain's Joan Cardona. Scott had taken the lead by the gate but a large shift, as rain came in, reshuffled the next upwind with Olezza leading round and down to the finish. Scott crossed second with Karpak third. It was a good race for the Spanish with three inside the top nine.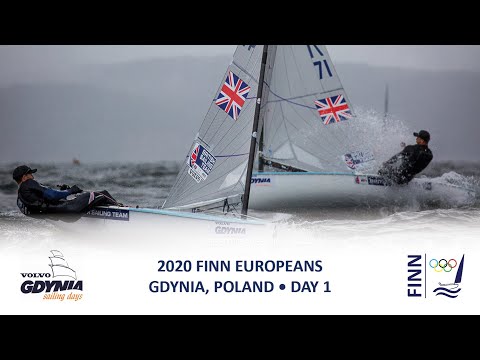 Former World Champion, Zsombor Berecz, from Hungary, summed up the mood in the boat park.
"It's definitely good to be back racing. I think everyone is happy to finally meet each other and see how everyone spent the last months and how the work has gone."
"Sailing here is very difficult I have to say. Overall I am happy with my results. Usually I start a regatta much worse than this. I have a fourth and a tenth. Not easy and we expect it to get even more tricky during the week so I think it is important to keep stability through the regatta as it's going to be much worse."
Muscat had a great day with a sixth and a fifth to sit in third after the first day. Spain is one of the countries still trying to qualify for Tokyo, and there is a lot of competition.
Muscat said, "It is a great feeling to be sailing again with all the top guys in the Finn class. We were lucky to have to a nice wind today. It was dropping and raining, and I achieved a lot, but it was a nice first day for the championship."
"I made a sixth and fifth, so really good day for me, especially in the second race when I rounded the first mark about 20th and I was lucky to be on the right on the second upwind and I gained a lot when the rain came with a big right shift."
However the day belonged to Scott. The last time the fleet met was at the Finn Gold Cup in Melbourne, where he finished fourth. Today he seemed to have legs on the fleet.
"It was a rainy day today. We got going in a bit of a storm really with heaps and heaps of rain and sailing a little bit blind, so a little bit of navigation involved today, but a solid start to the regatta with a one and a two which I'll take on what was quite a tricky day."
First race. "I got a good start and then picked the right moment to tack over onto port. There is quite a confused seas sate here because there is really a steep sea wall so there were opportunities to get some good surges on port which got me across top of the fleet and then just cover Henry in second."
In the second race, "I rounded the bottom mark in first and had a good battle putting a lose cover on Joan and then the rain came in again and the wind went 30-40 degrees to the right, so there were a few guys who were out on the right that came in front, and we had a fight down to the finish line.
On the first and only major regatta of the year. "It's great. It's strange that had everything been normal I wouldn't be Finn sailing any more, which is quite sad really. We would have had an Olympic Games under our belts, so it's strange but great to be back and see everyone here racing and hopefully we have a few more good days ahead of us."
Racing continues Thursday with a 10 race series scheduled. The championship concludes on Sunday 6 September.
Results after two races
1 GBR 41 Giles Scott 3
2 GBR 71 Henry Wetherell 10
3 ESP 7 Alejandro Muscat 11
4 HUN 40 Zsombor Berecz 14
5 CRO 10 Nenad Bugarin 16
6 EST 2 Deniss Karpak 17
7 SUI 1 Nils Theuninck 18
8 ESP 26 Joan Cardona 22
9 RUS 6 Arkadiy Kistanov 22
10 ARG 1 Facundo Olezza 23
Full results here:
https://events.pya.org.pl/2020-open-...ampionship,e23