MATEUSZ KUSZNIEREWICZ/BRUNO PRADA (POL) HOLD LEAD ON DAY 2 AT 94THBACARDI CUP
MIAMI, FLA (9 March, 2021) – Race day two at the 94th Bacardi Cup welcomed Star Class teams with another strong breeze day of 20-25 knots and knock-back waves, demanding huge physical effort and concentration from the fleet. No change in the leader board top three as the opening day's finishing order repeated itself for race 2 on Biscayne Bay, Miami.
Mateusz Kusznierewicz/Bruno Prada (POL) hold off Eric Doyle/Payson Infelise (USA)
Ten minutes before racing got underway, the Star fleet held a memorial start in honor of James 'Ding' Schoonmaker who passed away on 19 January 2021. As the fleet positioned themselves head to wind Ding's wife Treecie, aboard Mario Bustamonte's 'Merengue' with friends and family, shared some words with the fleet from their position above the start line. A world class sailor and stalwart in the Star fleet and the sailing world, Ding's contributions and philanthropy have reached out and benefited multitudes of sailors. A World Champion and multiple Bacardi Cup winner, Ding's mission and continuing legacy was to build the sailing community, support success and extend opportunities for all. Ding was also the driving force behind the training facility which provides sailors access to train and compete on Biscayne Bay, and the building bears his name. The Bacardi Cup's own legacy is due to the special friendship between Ding, Tito Argamasilla Bacardi and Frank Zagarino who in 1962 together brought the Bacardi Cup to Miami from Cuba, thus saving this unique and special regatta.
Regatta Chairman Mark Pincus commented, "Ding has been huge in the Star fleet and has been associated with the Bacardi Cup way before it came to Miami. Today we honored him with his wife and family."
Racing started a short while later on a two-triangle course, with some teams opting to stay ashore in the challenging conditions. Race 2 was a repeat of yesterday's opening race as the same line-up claimed the top three places. Defending Champions Mateusz Kusznierewicz/Bruno Prada (POL) were out front, followed by Eric Doyle/Payson Infelise (USA) with George Szabo/Guy Avellon (USA) rounding out the top three.
This time though Kusznierewicz/Prada were unable to get away unchallenged. Doyle/Infelise led the initial stages of the race, with Kusznierewicz/Prada only overtaking in the last third of the first reach. Some close maneuvering around the gybe mark saw Kusznierewicz/Prada take off, whilst Doyle/Infelise struggled after attempting to gybe too tight. The battle continued upwind on virtual level pegging, with a split towards the mark with Doyle/Infelise looking to have the advantage as they headed further right. But Doyle/Infelise got knocked back by waves which killed their speed forcing them to duck and handed the advantage going into the mark to the wily Kusznierewicz/Prada, who rounded a few seconds ahead before going on to score another emphatic win.
"Coming to the regattas, I always look for really good competition, and I must say that today Eric and Payson gave us a really good push," smiled Kusznierewicz. "We were battling for the win of the second race of the Bacardi Cup and we managed to overtake them on the reach, but I must say wow they were sailing very good today. Full respect and we are looking forward for the next races."
Doyle commented, "It was really fun and we had a great battle with Mateusz and Bruno. We were duking it out. We felt we were going pretty good upwind and they passed us on the reach and all in all just a great battle and a lot of fun."
Doyle/Payson won the Bacardi Cup in 2019 and have been sailing together for almost ten years, so are a slick partnership. Payson added, "The communication is always good, we know what is happening in the boat, what the other person wants or needs, so from there it is almost natural at this point for us which is quite nice. We were going really well upwind today. We made a couple of little changes but we thought we were pretty happy with it and we were getting closer up there."
Payson's passion for Star sailing is evident as he continued, "The boat is just a classic. You know, I love sailing the Star boat. It is technical, it is physical, you got to be smart, you got to work hard and the fleet and the class is one of the best in the world."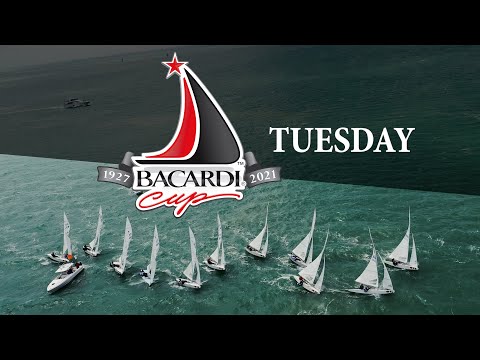 Some team combinations are longstanding whilst others are more recent. For third placed George Szabo/Guy Avellon their partnership started just a few years ago, with the 94thBacardi Cup marking their first time sailing in Miami this year.
"The conditions are proving a challenge but serious fun so far," explained Avellon, "Sailing a Star in bigger breeze there is obviously a lot of preparation we go through and [we] do a lot of research on the weather and the course where we are at. Then a lot of boat handling skills go into it."
Szabo added, "Sailing a Star boat in heavy airs is kind of like trying to go upwind or downwind in a Laser when you are 140lbs! That thing is just throwing you all over the place and to control that you can't do that without a big crew, a team mate who really knows how to sail as well. The thing is just a handful, you have to get the tuning right, get the main quiet, get the boat driving and under control. Once you do it is just an absolute ball, but if you don't it's kind of a little scary. It's a hoot!"
Bouncing back from a DNC yesterday, 2013 Star Class World Champions John MacCausland/Phil Trinter (USA) claimed a 4th place to secure the biggest leader board gain and step up to 12th overall. Close behind were Augie Diaz/Marcus Koy in 5th place, keeping them firm in fourth overall.
Provisional Top 10 Results – After Race 2
1. Mateusz Kusznierewicz / Bruno Prada (POL 8548) – 2 pts
2. Eric Doyle / Payson Infelise (USA 8423) – 4 pts
3. George Szabo / Guy Avellon (USA 8528) – 6 pts
4. Augie Diaz / Marcus Koy (USA 8509) – 9 pts
5. Jim Buckingham / Phil Toth (USA 8440) – 13 pts
6. Hubert Merkelbach / Kilian Weise (GER 8446) – 16 pts
7. Shane Zwingelberg / Keith Gardner (USA 8546) – 17 pts
8. John Ferguson Dane III / Greg Smith (USA 8555) – 17 pts
9. Joshua Powell / Mark Strube (USA 8522) – 18 pts
10. Scott Barnard / Craig Moss (USA 8504) – 22 pts
FULL RESULTS