Local heroes CAMPER with Emirates Team New Zealand clinched a dream victory on Saturday, winning the Auckland In-Port Race in front of tens of thousands of ecstatic fans to reinvigorate their Volvo Ocean Race campaign.
Bowman Daryl Wislang from New Zealand onboard CAMPER leading the fleet during the Auckland In-Port Race, ©IAN ROMAN/Volvo Ocean Race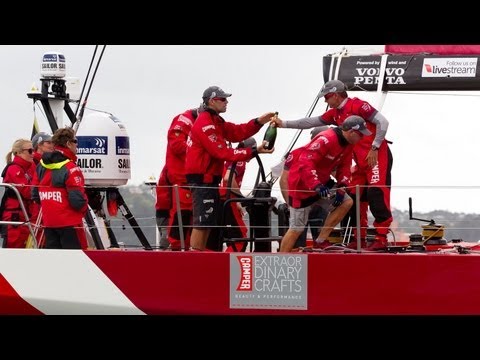 CAMPER, the Spanish sponsored team who count Auckland as one of their two homeports, earned the advantage with a tack right to the shoreline off the start and once in front never let go, keeping a comfortable lead all the way home on the 60-minute course.
PUMA Ocean Racing powered by BERG finished second, just 54 seconds behind, followed by Groupama sailing team in the third podium spot.
Team Sanya, skippered by Auckland-born Mike Sanderson, sailed a terrific race to clinch fourth ahead of Abu Dhabi Ocean Racing and Team Telefónica, who between them had won all four of the previous races in the in-port series.
"The one thing we said all week was how do we thank everyone who has supported us," said skipper Chris Nicholson. "I hope this goes a long way to thanking them.
"It's been a huge week of support and it's helped.''
Team Sanya celebrate St Patrick's Day before the Auckland In-Port Race, during the Volvo OCean Race 2011-12. ©IAN ROMAN/Volvo Ocean Race
CAMPER scored six points for the win but it wasn't enough to edge them ahead on the overall leaderboard where they remain third with 104 points, behind Telefónica (122 points) and Groupama (107).
It was PUMA who looked to have scored the jump off the start line, sprinting under full speed to the lead with a dominant position to windward at the committee boat end of the line.
Within a minute of the start gun firing a split in the fleet developed with CAMPER, Sanya and Groupama opting to tack to a course closer to the city's port.
The trio gained pace with one knot less current against them than their counterparts PUMA, Telefónica and Abu Dhabi in the middle of Waitemata Harbour.
It was CAMPER who came out on top of the split, locking in first place as the fleet engaged in some very close-quarter sailing.
Sanya fell foul of the tight racing, falling to sixth place on the back of a port/starboard incident with Groupama within five minutes of the start.
Emirates Team New Zealand in the lead followed by Abu Dhabi Ocean Racing during the In-Port Race in Auckland, ©PAUL TODD/Volvo Ocean Race

The fleet followed by spectator boats sail under the Auckland Harbour Bridge during the In-Port Race in Auckland, © PAUL TODD/Volvo Ocean Race
After the 18-minute, 2.5 nautical mile upwind sprint to the first mark CAMPER clung to a slim 19-second lead over Groupama.
PUMA trailed in third by 55 seconds, followed by Sanya 1:29 behind, Abu Dhabi in fifth by 1:35 and Telefónica in sixth by 1:41.
The easterly breeze picked up to 18-20 knots as the teams cracked their spinnakers, which proved only to add to CAMPER's domination as they extended their lead to 40 seconds.
Groupama and PUMA held their positions, while Abu Dhabi moved to fourth, Telefónica to fifth and Sanya to sixth.
PUMA managed to manoeuvre in front of Groupama on leg three and trail CAMPER by 1:01. Groupama held third position, but they were under pressure from Team Sanya who had clawed back to fourth, with Abu Dhabi in fifth and Team Telefónica in sixth.
Positions remained locked-in as the team's crossed the finish line much to the delight of the crowd.
http://www.volvooceanrace.com/en/home.html