3 For The Money
images©Arthur Daniel/RORC
The modified Volvo 70 L4 Trifork (DEN) finished the RORC Transatlantic Race in an elapsed time of 9 days 10 hrs 27 mins and 58 secs on the 10th day of the race © Arthur Daniel/RORC
DAY 11 - 18 JAN
At sunset on the tenth day of the RORC Transatlantic Race, the modified Volvo 70 L4 Trifork (DEN) finished the RORC Transatlantic Race in an elapsed time of 9 days 10 hrs 27 mins and 58 secs. L4 Trifork is the second monohull to finish the race and the first of three 70-foot hi-tech ocean racers. L4 Trifork's IRC corrected time is not enough to beat the 100ft Maxi Comanche (CAY) for the overall lead.
The L4 Trifork team had a warm welcome at Camper and Nicholsons Port Louis Marina, as every boat can expect in the RORC Transatlantic Race. Marina Manager Zara Tremlett and her staff provided ice cold beers and the Grenada Tourism Authority, represented by Chinel Sandy, presented L4 Trifork's Joern Larsen with a basket of Grenada produce to welcome the team to Grenada. Andrew McIrvine, Secretary General of the IMA and RORC Race Officer Steve Cole were also on hand to congratulate the team.
"It has been a long ride and we have had all kinds of weather along the way, especially when we went north into cold weather and up to 38 knots of wind," commented Joern Larsen. "It is a relief to get here and the race has been an absolute pleasure. In total with this trip we have raced 4,000 miles in under 10 days and next we will do the RORC Caribbean 600. The boat is now part of the Trifork family. We take out Trifork employees, customers and partners to have a special experience. It is the first time I have come to Grenada and it warms my heart to have presents from local people, we love it."
L4 Trifork was originally Ericsson 4, the Juan K design that won the 2008-09 Volvo Ocean Race. Many consider Ericsson 4 as the best Volvo 70 ever built. The original intention was for L4 Trifork to be a fast cruiser, but working with boat captain Jens Dolmer, L4 Trifork has been modified into a turbo-charged offshore racer with a longer bow sprit and side foils. Race tactician Bouwe Bekking explains the concept behind L4 Trifork:
"We had a good game plan, but Comanche is an amazing boat. Maybe if we didn't have the rating hit for the side foils we would have been there on (IRC) corrected time," commented Bouwe Bekking dockside. "But the owner doesn't give a damn about the rating, the goal is to be the fastest 70-footer and we have achieved that, as we hope to also in the RORC Caribbean 600. It is always fun to race these boats and all credit to the experienced crew, and Jens Dolmer who has done a fantastic job preparing L4 Trifork. We didn't have a single breakage. This boat is an animal and if we don't keep in control, it can be dangerous."
L4 Trifork's navigator is Aksel Magdahl. The Norwegian was part of the two-boat Ericsson campaign in the 2008-09 Volvo Ocean Race, as were many of the L4 Trifork crew. Aksel explains the complex weather for L4 Trifork in the RORC Transatlantic Race:
"This was not a typical transatlantic race. For a fast boat usually you would head a little north to find a front and get the speed. For this race, we literally made a 90 degree turn north; after two days racing, we were almost the same distance to the finish. It was aggressive, but for us there was no real alternative to the south. We sailed north of the low and it followed us as forecast.
"After the first low, it got really interesting. Before the start we knew about the second low coming and had a plan, but after we set off, we saw a third low coming and we thought what are we going to do with that? We decided to stay north to get to the downwind side of it, but the path of this third low looked quite unpredictable. My real worry was that if we went south we would come into headwinds and if we sailed north we would then have few options to reach down. A southerly route opened on the modelling and we took it and we had a reasonable chance of catching Comanche (on IRC corrected time).

"As a crew, we had a quick chat as we approached the finish about what time we had 'left behind'. If we had changed the plan or known the boat a little bit better, maybe we would have been two hours quicker. All credit to Comanche, they have a great boat, excellent navigator and a team that sail the boat well," concluded Magdahl.
http://rorctransatlantic.rorc.org/ra...4-trifork.html
**************************
images©arthur daniel/RORC
DAY TEN - 17 JAN (0900 UTC)
On the tenth day of the RORC Transatlantic Race, 21 teams are still racing in the Atlantic for the overall win and claim the RORC Transatlantic Race Trophy. Racing under the IRC Rating Rule, Comanche's record run has now set the bar for the monohulls to beat. Out in the Atlantic, battles for class honours and private duels are raging, and the race for the overall win is far from over.
In the MOCRA class, the latest multihull to finish is Antoine Rabaste's Maxi Multihull Ultim Emotion 2 (FRA), which crossed the finish line outside Camper & Nicholsons Port Louis Marina in Grenada just before sunset on 16 January. The 80ft trimaran screamed into Grenada at a speed of over 26 knots!
*******************************
image © shannon falcone
The 30.48m (100ft) VPLP Design/Verdier Maxi Comanche, skippered by Mitch Booth, took Monohull Line Honours in the 2022 RORC Transatlantic Race, winning the magnificent IMA Trophy. Comanche set a new race record for the 3,000nm race from Lanzarote to Grenada of 7 days 22 hours 1 minute 4 seconds. Comanche's new Monohull Race Record has beaten the previous race record by over two days. With the double achieved Comanche must wait to see if any of the remaining 21 teams racing under IRC can eclipse their corrected time to win the RORC Transatlantic Race Trophy.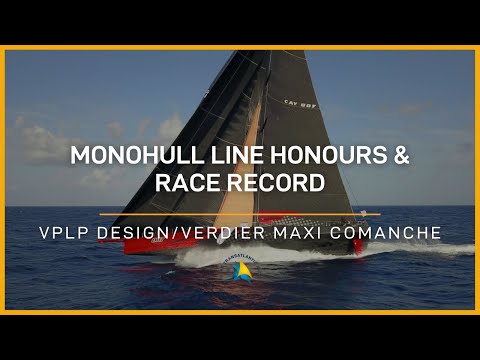 The winning crew: Guillermo Altadill Fischer, Mitch Booth, Diogo Cayolla, Pete Cumming, Dom Davies, Damien Durchon, Shannon Falcone, Pavlo Kalynchev, Alexei Kapustin, Pavel Karachov, Campbell Knox, Petr Lipa, Lago Lopez Marra, Paul Magee, Will Oxley, Corrado Rossignoli, Louis Sinclair, Justin Slattery, Eduard van Lierde, Rudi van Velzen, Konstantin Vasilev, Daryl Wislang.